The Slow and Low, Herb Crusted, Butter Blanketed, Roast Turkey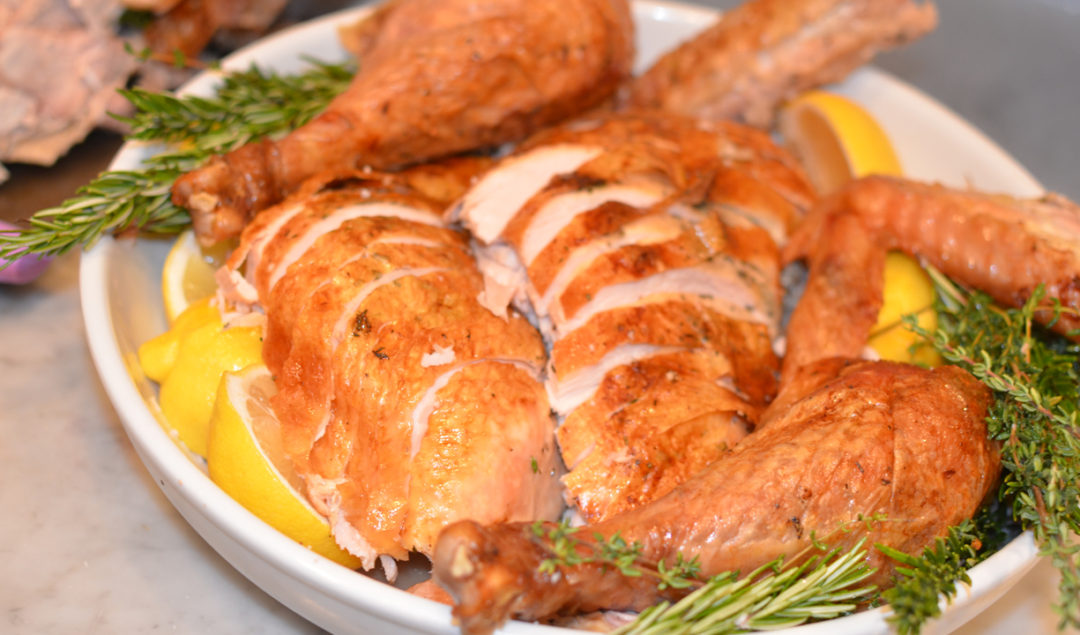 Created by Food Life Love on July 2, 2016
Prep Time: 20m
Cook Time: 6h
Total Time: 6h 20m
Serves:

12

Yield:

1 20 pound turkey
Ingredients
20

lb

organic turkey

2

heads of garlic

1

tsp.

fresh thyme, minced plus more for stuffing the cavity

1

tsp.

fresh sage, minced plus more for stuffing the cavity

1

tbsp.

fresh rosemary, minced plus more for stuffing the cavity

2

sticks butter

2

yellow onions

1

lemon, plus more for decoration

6

stalks of celery

1

c

of white wine, I used Pinot Grigio

salt and pepper

a cheesecloth
Instructions
Preheat the oven to 275 degrees.
Take out all the insides of the turkey and rinse to clean. Pat the turkey completely dry.
In a bowl, combine the minced sage, thyme, rosemary and 6 cloves of garlic (chopped finely).
Melt the butter.
Chop one onion and the celery into large chunks and place on the bottom of a roasting pan. This is the bed for the turkey to roast on. Place the dried turkey on top of the veggies. Season the inside of the turkey with salt and pepper. Place one garlic bulb (halved), one onion (quartered), the lemon (quartered), and any leftover herbs into the cavity.
Pour half of the melted butter (one stick) into the bowl with the herbs. Add salt and pepper, mix to combine. Rub the entire turkey with this herb mixture. Make sure to get it in between the skin and the flesh. This will really help to season the actual meat of the turkey, not just the skin. Use all of the herb rub, do not let one drop go to waste! Season the turkey with salt and pepper.
Damp the cheesecloth with water, then squeeze out. Put the cheesecloth in the rest of the melted butter (the other one stick). Let the cheesecloth completely absorb the butter. Once absorbed, cover the turkey in the \"butter blanket\". I don\'t like any bit of the turkey showing. This is like a self-baster and will help keep the turkey moist. Drizzle any leftover butter on top of the turkey.
Place the turkey in the oven and roast for 3 hours then turn the temperature up to 300 degrees. Take off the cheesecloth and roast for another 2 to 4 hours, depending on how big your turkey is. (My 20 pound turkey to 6 1/2 hours). The turkey will register 165 degrees internally when it is done. Let rest for 1 to 3 hours before carving. Enjoy!
*** SAVE THE TURKEY JUICES FOR THE GRAVY AND STUFFING!
xo, Rachel