Summer Lobster Pasta with Heirloom Tomatoes and Basil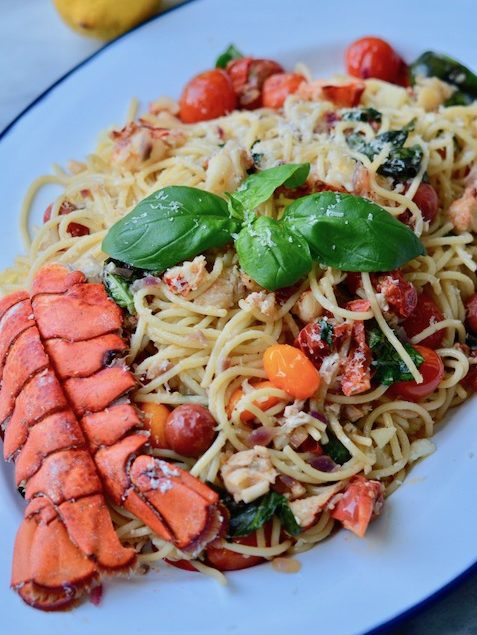 Prep Time: 5m
Cook Time: 25m
Total Time: 30m
Ingredients
4

lobster tails

1

lb

spaghetti pasta

3

large shallots, minced

4

garlic cloves, minced

1/3

c

white wine

1

c

pasta water (you may not use this whole amount)

2

pt

baby heirloom or cherry tomatoes

2

c

fresh basil, chopped

1/2

c

parmesan cheese, plus more for topping
Instructions
Bring a large pot of water to a boil. Add a big pinch of salt to the water. When the water is boiling, drop in the lobster tails. Cook the lobsters until the shells turn bright red and they curl up. They should only take 6-8 minutes to cook. When the lobster is done, remove it from the water and set aside.
Drop the spaghetti in the same boiling water that the lobster was cooking in and cook according to the package instructions. I like my pasta al dente which usually takes between 8-12 minutes. You do not want to over cook the pasta because it is going to finish cooking in the sauce.
While the pasta is boiling, it's time to start the sauce. Heat a large nonstick skillet or dutch oven to medium heat. Add 2 tablespoons olive oil along with the shallots. Let the shallots cook until almost translucent. This will take about 4-6 minutes. When the shallots are almost done, add the garlic to the pan. Cook the garlic for a minute then pour in the baby tomatoes. Bring the heat to medium high and add in the wine.
Let the alcohol cook out of the wine and reduce by half. Once the wine is reduced, add in ¼-1/2 cup pasta water and let the "sauce" simmer for 15- 20 minutes. I like most of the tomatoes to burst but have a few of them still whole. Also, some tomatoes are juicer than others, so I add pasta water as the sauce cooks until I think it's the right consistency. Season the sauce with salt and pepper.
When the lobster is cool enough to handle, remove the meat from the shell and chop into bite size pieces.
When the pasta is done, add it directly to the pan with the sauce. Add the chopped lobster and parmesan as well and toss everything together. If the sauce is too thick, add a splash more pasta water.
At the last minute, add in the chopped basil. Give the pasta a toss and taste it to make sure you don't need to add anymore salt or pepper.
Plate the pasta on a large dish and serve immediately! I like to top mine with extra basil leaves and fresh grated parmesan. Enjoy!