Grilled Kofta with Cucumber and Tomato Salad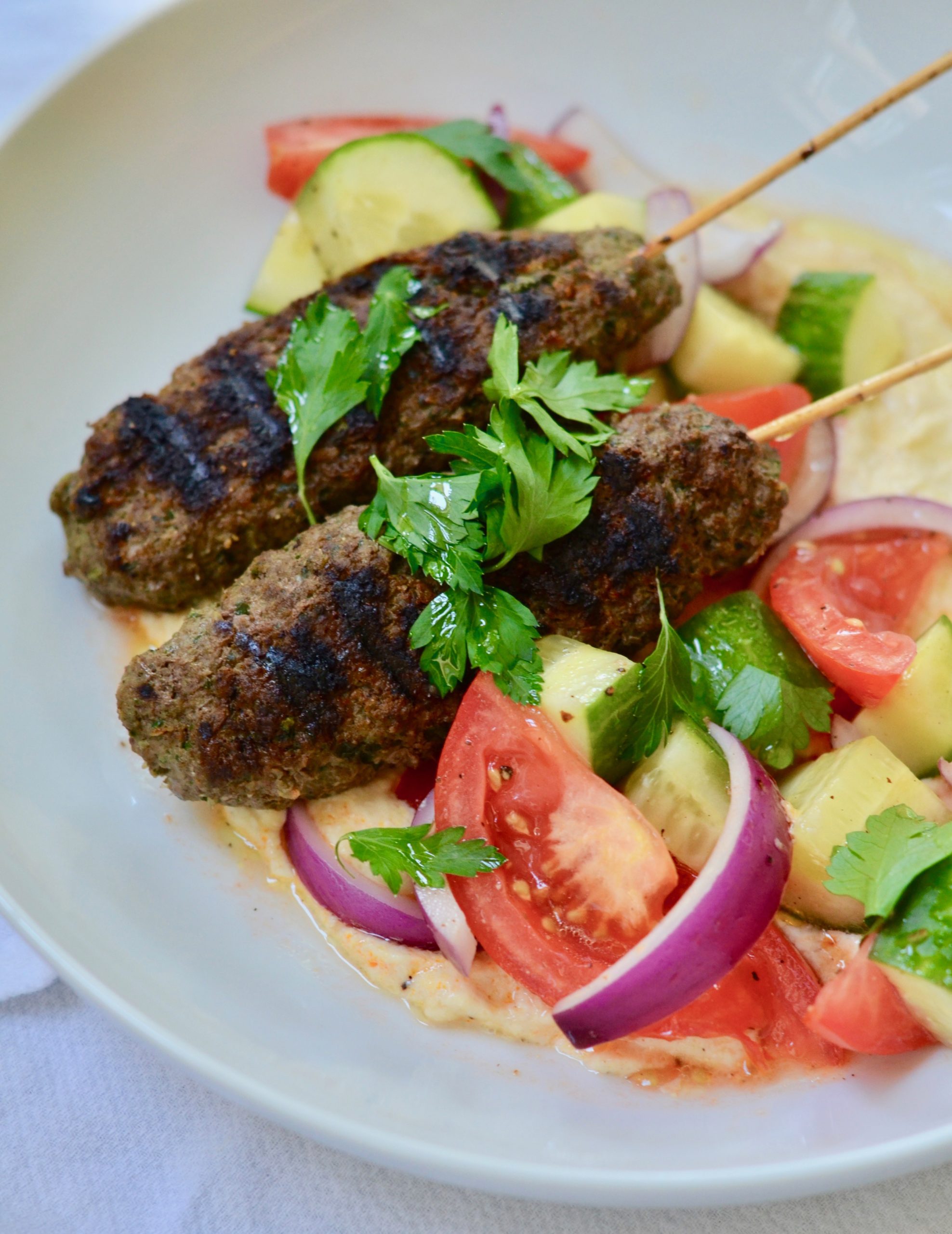 Prep Time: 15m
Cook Time: 15m
Total Time: 30m
Ingredients
1

lb

Laura's Lean™ Ground Beef

1

small yellow onion, roughly chopped

1

bunch parsley, about 2 cups

2

garlic cloves

1

tbsp.

ground coriander

1

tsp.

ground cumin

1

tsp.

allspice

1/4

tsp.

teaspoon cinnamon

1/4

tsp.

cayenne pepper

3

roma tomatoes, chopped in bite-sized pieces, about 1 cup

1

hothouse cucumber, chopped in bite-sized pieces, about 1 cup

¼ cup red onion, chopped

1

c

hummus, homemade or store-bought

1/4

c

olive oil

Salt

Pepper

**8 metal or wooden skewers. If using the wooden ones, they need to be soaked in water for 30 minutes to an hour before grilling.
Instructions
Place the onion, parsley and garlic in a food processor and pulse until everything is finely chopped.
Put Lauras Lean™ ground beef in a large bowl with the chopped vegetable mixture and spices. Mix everything to combine but be careful not to overwork the meat. If you mix it too much the meat will get tough. If the meat mixture seems to have any moisture, you can damp it with a paper towel. You want the meat kebabs to be completely dry before you grill them.
Divide the meat mixture into 8 piece and roll each one into a ball. Once the ball is formed, place it on the skewer and then elongate the ball into a cylinder/football shape. You want them to be about ½ inch thickness.
Heat the grill or grill pan over medium high heat. Drizzle the pan with avocado oil because it has a higher smoke point then add the skewers. You want to give each skewer room to cook. Do not overcrowd them! Cook the skewers for 4-6 minutes per side, depending on how thick you made them. When the skewers are done, remove them from the pan and let cool a bit while you prepare the salad.
Place the chopped cucumber, tomatoes and onions in a large bowl. Drizzle the vegetables with the olive oil and some salt and pepper. Taste the vegetables to make sure they are seasoned well.
Plate the dish. Place ¼ cup of the hummus on the bottom of a plate. Top with about ¼ cup of the vegetables and 2 skewers. Top with parsley leaves for some added freshness. Enjoy!