Fall Harvest Apple Grain Salad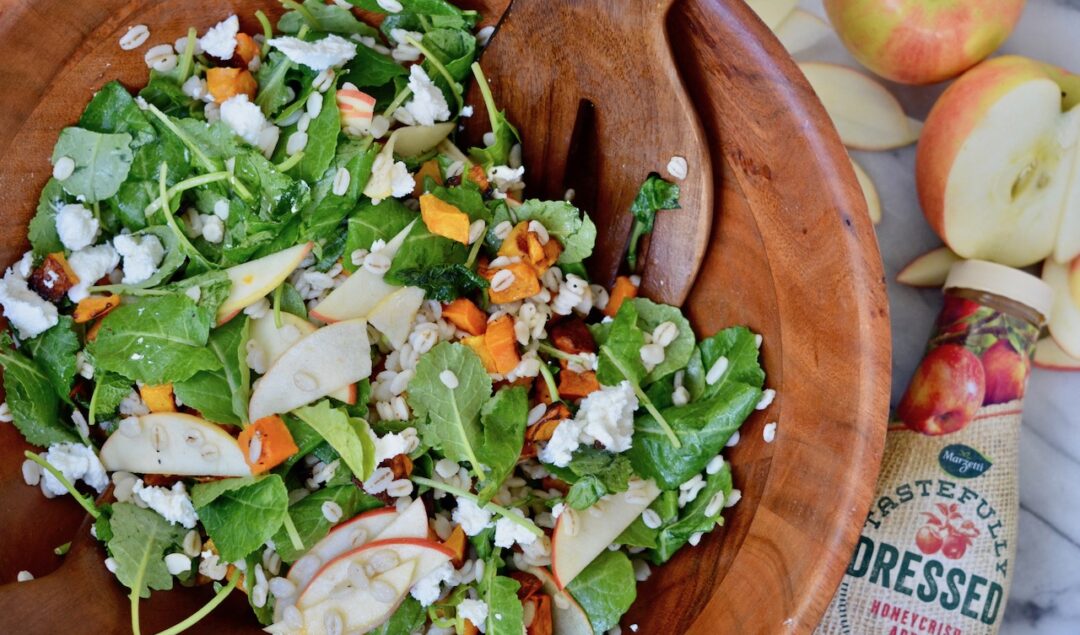 Prep Time: 40m
Cook Time: 10m
Total Time: 50m
Ingredients
1

c

barley, preferably quick cooking

2

small Honeycrisp apples, about 1.5 cups sliced

4

c

Lacinato kale, finely chopped

1

butternut squash, peeled and cubed, about 4 cups

5

oz

goat cheese

1/3

c

Marzetti® Tastefully Dressed™ Honeycrisp Apple Dressing
Instructions
Preheat the oven to 400 degrees.
Place the cubed butternut squash on a baking sheet. Toss the squash with 1 tablespoon of olive oil and a sprinkle of salt and pepper. Mix everything together to combine then bake.
Cook the squash until it is crispy on the outside and tender on the inside. Depending on how big the cubes are, this should take between 28-35 minutes. When the squash is done, remove from the oven and set aside.
While the squash is baking, cook the barley. There are a couple different types of barley. I am using quick cooking barley which is a 2:1 ratio. Bring 2 cups of water to a boil. Once boiling, stir in the barley. Add in a big pinch of salt and cover with a lid. Lower the heat to a simmer and cook for 10-14 minutes until the barley is tender. You may need to drain the barley if there is still excess liquid when it is finished cooking. Pour the barley onto a paper towel lined baking sheet and let it dry out.
When the squash and barley have cooled, toss in a large salad bowl with the chopped apple, kale, and goat cheese. Pour in the Marzetti® Tastefully Dressed™ Honeycrisp Apple Dressing and mix everything to combine. Taste to adjust any necessary seasonings. Serve and enjoy!