Brussels Sprout Caesar Salad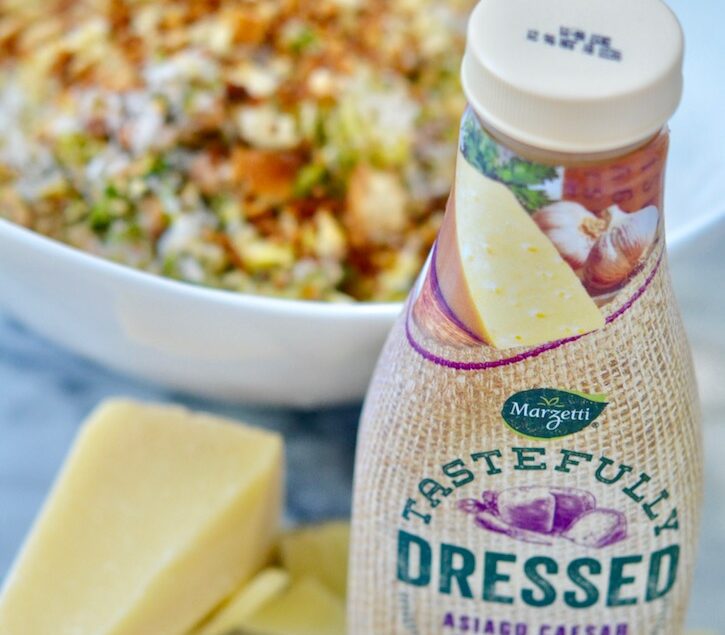 Prep Time: 15m
Cook Time: 5m
Total Time: 20m
Ingredients
1/3

c

Marzetti® Tastefully Dressed™ Asiago Caesar with Black Garlic Dressing

1

lb

brussels sprouts, thinly sliced

4

oz

pancetta, finely chopped

2

slices sourdough bread, ground into breadcrumbs, about 1 cup

1

c

asiago cheese, grated
Instructions
Heat a nonstick skillet over medium heat with the pancetta. Cook until the pancetta is crispy, about 8- 10 minutes. When the pancetta is done, remove with a slotted spoon right onto the sliced brussels sprouts. This will help to soften the sprouts.
In the same pan that the pancetta was cooked in, add in the breadcrumbs. Cook the breadcrumbs in the remaining pancetta fat until the breadcrumbs turn golden brown. You want to toss them as they cook for about 4-6 minutes. If you are not constantly stirring, they will burn. Remove the breadcrumbs when done and add them to the brussels sprout mixture. Save about ¼ cup of the breadcrumbs to top the salad with at the end.
Add the asiago cheese to the salad and toss everything together. Drizzle the Marzetti® Tastefully Dressed™ Asiago Caesar with Black Garlic Dressing and toss again.
Taste the salad to adjust any necessary seasonings. Serve with extra grated asiago and the remaining breadcrumbs. Enjoy!