Salsa Verde Chicken and Black Bean Bowls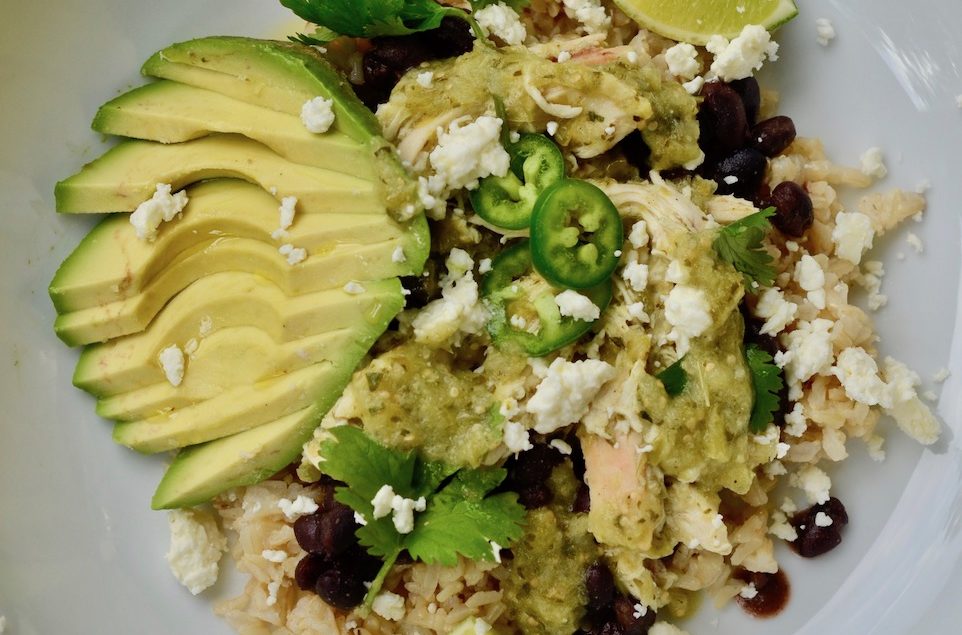 Prep Time: 5m
Cook Time: 45m
Total Time: 50m
Ingredients
For the Salsa Verde
1

lb

tomatillos, about 10-12, husks removed

4

garlic cloves

1

jalapeno

1

c

cilantro

1

onion

1

tbsp.

cumin

2

tbsp.

lime juice

Salt and pepper

1

tbsp.

olive oil
For the Bowls
4

c

cooked shredded chicken, about 2 chicken breasts (store-bought or homemade)

2

cans black beans

3

c

cooked brown rice, about 1 cup uncooked

½ cup feta

1

large avocado
Toppings, optional
1

jalapeno, thinly sliced

Fresh cilantro, chopped

1

lime, cut into wedges
Instructions
Preheat the oven to 400 degrees.
Place the tomatillos, garlic cloves, onion and jalapeno on a baking sheet. Season the vegetables with salt and pepper and drizzle with a 1-2 teaspoons of olive oil.
Roast the vegetables for 15-18 minutes until the tomatillos start to brown.
Let the vegetables cool for a bit then place everything, including the juices from cooking, into a blender or food processor. Add the cilantro, cumin, lime juice, olive oil and salt + pepper. Blend everything together until it becomes a nice sauce consistency without being too smooth. I like the salsa to have some texture in it. Taste to see if you need to adjust any seasonings then set aside to cool.
Cook the brown rice according to the package instructions. I cook 1 cup of rice in 2 ¼ cups of water with 1 teaspoon each cumin, garlic powder, onion powder and salt. I also usually add one tablespoon of ghee or butter which gives the rice a nice texture. Bring the rice to a boil then lower the heat to a simmer and cover. Cook the rice on low for 45 minutes then turn off the heat. Let the rice steam with the lid on for another 5 minutes then fluff with a fork. Set aside until you are ready to build the bowls.
For the black beans, I just drain them and pour both cans in a sauce pan with a teaspoon of cumin and some salt. Cook on medium heat until they are warmed through.
In a large nonstick skillet, add the cooked shredded chicken with 1 cup of the salsa verde. Cook everything together for about 5 minutes so that everything is heated through and the chicken has a chance to absorb the salsa verde. Season with a pinch of salt and pepper.
To build the bowls: Add ¼ to ½ cup of brown rice to the bottom of each bowl. Add a couple of tablespoons of black beans on top then ½ -1 cup of the shredded chicken mixture. Finish each one with a couple tablespoons of feta, ¼ avocado and all of your favorite toppings. I like to add some additional sauce, fresh jalapeno slices and a squeeze of lime before serving. Enjoy!