Greek Marinated Chicken Thighs with Veggie Salad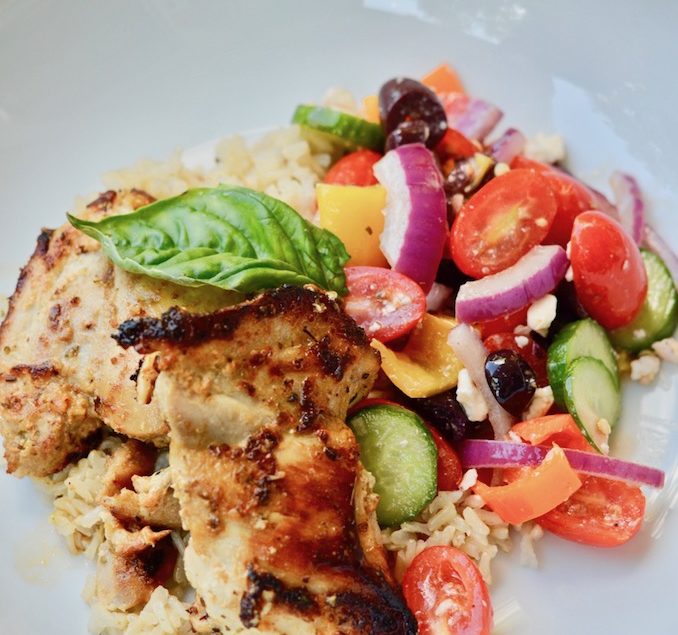 Prep Time: 45m
Cook Time: 15m
Total Time: 1h
Ingredients
For the Chicken Marinade
½ cup Greek yogurt

¼ cup olive oil

3

garlic cloves, minced

1

lemon, zested and juiced

1

tbsp.

oregano

Salt and pepper

1 1/2

lbs chicken thighs, 5 to 6 thighs
For the Greek Salad
1

pt

cherry tomatoes, cut in half

3

persian cucumbers, thinly sliced

1/3

c

Kalamata olives, cut in half

1

green or red bell pepper, chopped in 1 inch pieces

¼ red onion, thinly sliced

¼ cup feta cheese, crumbled
For the Greek Dressing
¼ cup Olive oil

¼ cup Red wine vinegar

1

garlic clove, minced

1

tsp.

dried oregano

1

tsp.

honey

1

tsp.

Dijon mustard

Salt and pepper
Instructions
First, make the chicken marinade. Add all the ingredients to a bowl and whisk everything to combine. Place the chicken thighs in a large zip-lock bag and pour in the marinade. Mash everything together so that the marinade is completely coating the chicken. Refrigerate the chicken for 30 minutes but up to 3 hours.
While the chicken is marinating, make the Greek salad. Combine all the salad ingredients in a large bowl. Set aside to make the dressing.
In a separate bowl, make the dressing. Combine all the ingredients for the dressing a bowl and whisk everything together. You could also put everything in a mason jar and shake until the dressing has emulsified. Taste the dressing to adjust any necessary seasonings.
When the dressing is done, pour desired amount over the Greek salad. Toss everything together and taste. You may need to add salt or pepper.
Refrigerate the salad until ready to serve.
When the chicken is done marinating, take it out of the fridge.
Pour 1-2 tablespoons of avocado oil in a large cast iron skillet. Turn the heat to medium/high and let the oil heat up. When the oil is hot, it will start to shimmer, and you know it is ready to cook in.
Sear the chicken for 6-8 minutes on each side. You want the chicken to form a golden brown crust before flipping. When the chicken is no longer pink and registers 160 degrees, it is finished. Remove from the pan and cover with foil. Let the chicken rest for 10 minutes before slicing or serving.
To plate: Slice the chicken into strips and serve alongside the greek salad. I love this with brown rice or quinoa as well!