Fall Vegetable Skillet Hash with Poached Eggs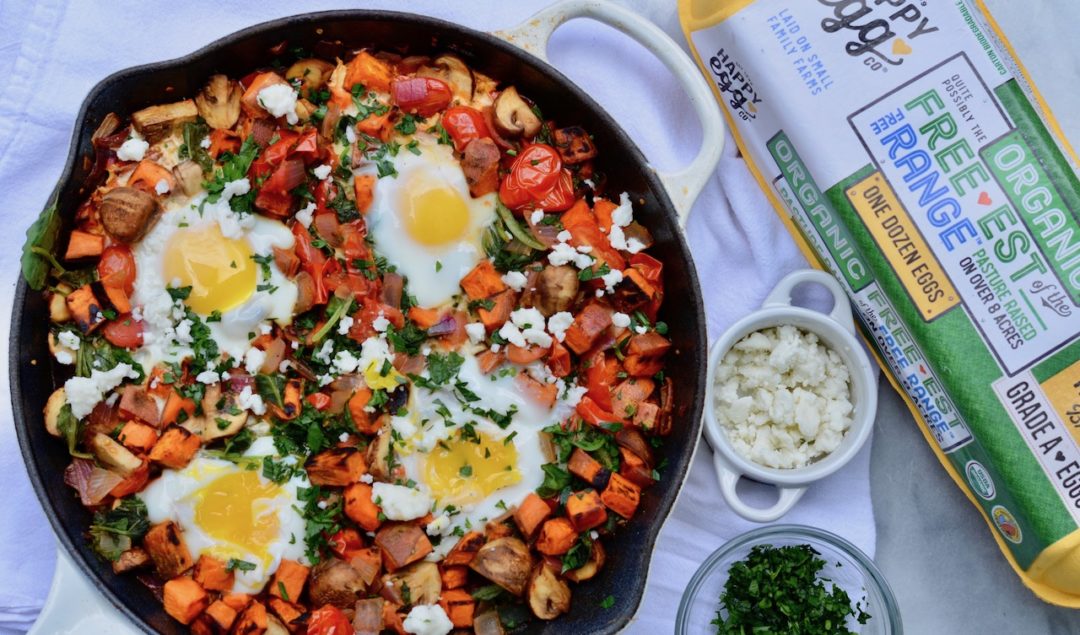 Prep Time: 15m
Cook Time: 20m
Total Time: 35m
Ingredients
6

6 Happy Egg Organic Free-Range Eggs™

2

small sweet potatoes, finely cubed, about 3.5-4 cups

1

8 oz package baby bella mushrooms, quartered

1

small red onion, finely chopped

1

pt

cherry tomatoes, halved

4

c

kale, 1 5oz package
Toppings, optional
¼ cup goat cheese, crumbled

1

tbsp.

parsley, finely chopped

1

avocado, sliced
Instructions
In a large cast iron skillet, add 1-2 Tablespoons avocado oil and bring the heat to medium/medium high. When the oil is hot, add the diced sweet potatoes to the skillet. Cook the sweet potatoes over medium heat until golden on all sides and tender in the center. Season the potatoes with salt and pepper. The sweet potatoes should take around 18-22 minutes. Make sure to flip them about every 3-5 minutes so they do not burn.
When the sweet potatoes are crispy on the outside and tender in the center, remove them from the pan and set aside on a plate.
In the same skillet, add another Tablespoon of oil and then add the mushrooms. Cook the mushrooms over medium high heat until they have a golden sear on each side and start to become tender. This will take about 5 minutes.
When the mushrooms are tender, add in the onions and tomatoes. Toss everything together and season with more salt and pepper. Cook the vegetables for about 5-8 minutes to allow the onions and tomatoes to soften. Once they have cooked down, add in the kale. It will look like you are adding too much kale, but the greens will wilt down to almost nothing.
Toss the vegetables with the kale to combine everything together while wilting down the greens. When the kale is tender and incorporated with the rest of the vegetables, add the sweet potatoes back in and toss everything to combine.
Now time for the Happy Egg Organic Free-Range Eggs™. With the back of spoon create four small "holes" in the vegetables. This is creating a small pocket for the eggs to poach in. Crack an egg one at a time into a small bowl and then pour the egg into the egg "hole". Do this with all six eggs then cover the skillet.
Turn the heat down to medium and steam the eggs until the whites have set and the yolk is cooked to your liking. I prefer to cook the eggs about 8-10 minutes for runny eggs. Feel free to cook the eggs longer if you like the yolks more cooked.
Remove the lid from the skillet and top the hash with fresh parsley and crumbled goat cheese. Season the eggs with salt and pepper.
To serve: Place a large spoonful of hash with an egg on a plate. Top with more cheese and serve with crusty bread to soak up that runny egg goodness. Enjoy!