Grilled Salmon with Cauliflower Gnocchi Puttanesca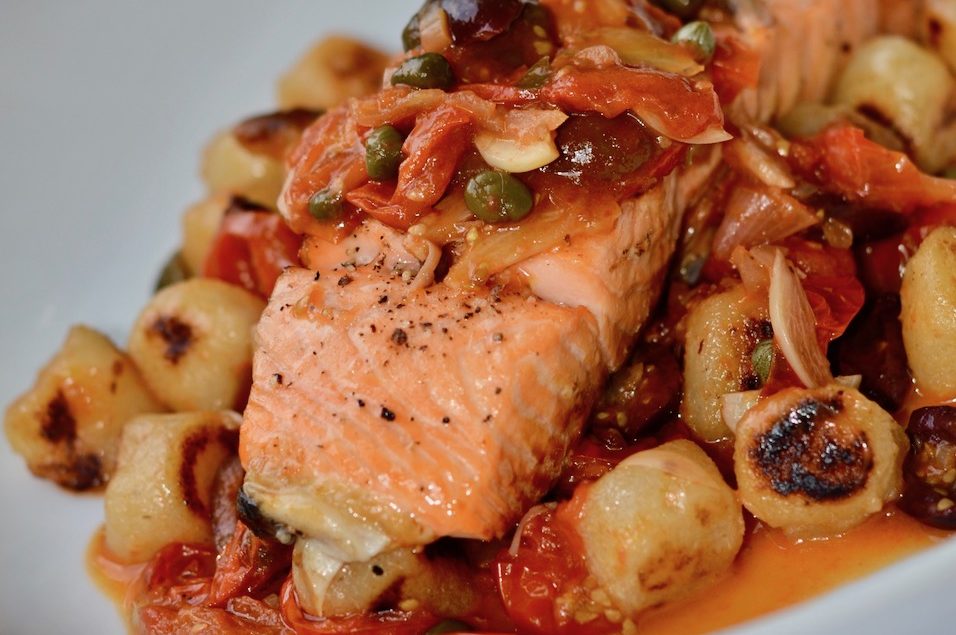 Prep Time: 5m
Cook Time: 20m
Total Time: 25m
Ingredients
2

salmon fillets

2

pkg

Trader Joes cauliflower gnocchi

3

garlic cloves, thinly sliced

1

large shallot, sliced

1

pt

cherry tomatoes, halved

¼ cup Kalamata olives, pitted, halved

2

tbsp.

capers

½ cup white wine, I used a pinot grigio

1/4

– ½ cup chicken stock, depending on how ripe your tomatoes are

2

tbsp.

butter

Salt and pepper
Instructions
Preheat the grill to register 400 degrees or you can bake the salmon in the oven at that temperature.
Season the salmon fillets with salt and pepper and drizzle with olive oil. Sear the fillets skin side down for 4-6 minutes until when you try to lift the fish it comes up easily and the skin has crisped up. While the fish is cooking on the skin side, I like to close the grill so the fish cooks evenly. When the fish is ready to flip, sear on the flesh side for another 2-4 minutes. You do not want to overcook the salmon! When the fish is done, remove to a baking sheet, cover with foil and let it rest while the sauce finishes. If you are baking the salmon in the oven, it should take between 10-14 minutes.
In large sauté pan, add 1 tablespoon of olive oil and turn the heat to medium. When the oil is hot, add in the tomatoes, olives, garlic and shallots. Season the vegetables with salt and pepper and cook over medium heat for 4- 6 minutes until the tomatoes have softened. When the tomato mixture is tender, pour in the white wine and add the capers. Increase the heat to high and cook the sauce until the wine has reduced by half. While the wine is reducing, you can go ahead and cook the gnocchi.
When the wine has reduced and the alcohol has cooked off, add in the chicken stock and lower the heat to a simmer (light bubble). After the sauce has been simmering for 3- 5 minutes, add in the butter. Let the butter melt in with the sauce and season with salt and pepper. Taste the sauce to adjust any seasonings it might need. I'll sometimes add a squeeze of lemon juice here!
To cook the cauliflower gnocchi, I think it works best when cooking straight from the freezer. Heat a nonstick skillet over medium/high heat with 2 tablespoons avocado oil. When the oil is shimmering, that means it is hot, and you can pour in the gnocchi. Cook the gnocchi in an even layer and don't touch them once they are in the pan. If you need to cook the gnocchi in 2 batches so they are not on top of each other that is fine too. When the gnocchi have cooked for 5-7 minutes on high heat, flip them and let the gnocchi cook on the other side. The gnocchi should be golden brown and crispy but tender throughout when done. When the gnocchi are ready, pour them into the finished sauce and gently toss everything together!
To serve: pour a big ladleful of the gnocchi and puttanesca sauce on the bottom of a pasta bowl. Top with the salmon fillet and some extra sauce. Garnish with a lemon wedge and enjoy!