Korean Beef Lettuce Wraps with Coconut Rice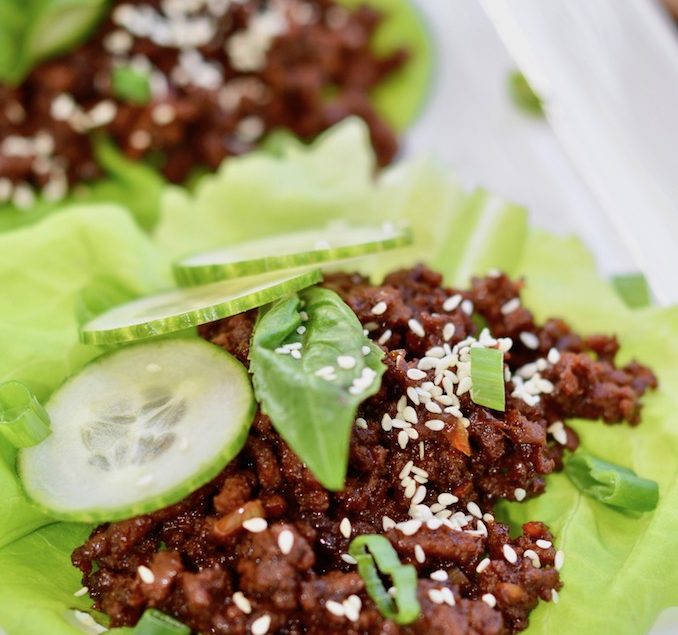 Prep Time: 10m
Cook Time: 20m
Total Time: 30m
Ingredients
1

lb

Laura's Lean™ Ground Beef

4

scallions, white and green parts separate

1

tbsp.

garlic, minced, about 3 cloves

1

tbsp.

ginger, minced, about 1inch chunk

1

head bib lettuce, washed and torn into cups
Sauce
1/3

c

soy sauce

2

tbsp.

honey

1

tbsp.

sesame oil

3

tbsp.

gochugang paste
Coconut Rice
14

oz

can coconut milk

1 1/4

c

water

1 1/2

c

jasmine rice

1

tbsp.

sugar
Toppings
1

seedless cucumber, about ¼ cup thinly sliced

basil leaves, optional

1

tbsp.

sesame seeds, optional
Instructions
Heat a large nonstick skillet over medium high heat with 1 tablespoon of avocado oil. When the skillet is hot, add in the ground beef. Cook the beef for 8-10 minutes, until completely browned and no longer pink.
While the beef is cooking, make the sauce for the meat. Combine the soy sauce, honey, sesame oil and gochugang paste in a bowl. Whisk everything together until it is a cohesive mixture. Set aside until ready to use.
When the meat is cooked, add the white parts of the scallions, ginger and garlic. Cook everything together for another 2-3 minutes then pour in the sauce. Lower the heat to medium low and let the sauce simmer with the beef mixture for another 8-10 minutes.
To make the coconut rice: pour the coconut milk, water, sugar and pinch of salt into a saucepan. Turn the heat to medium and whisk everything together. When the sugar has dissolved (it should only take a minute) pour in the rice.
Bring the rice to a boil then cover and reduce to the heat to medium low and simmer. Cook the rice for 18-22 minutes until tender. When the rice is done, remove from heat, but leave the lid on. Let the rice steam for 5 minutes then fluff with a fork. Toss with the green scallions.
Make the lettuce cups: Take a large leaf of bib lettuce and scoop a couple tablespoons of the meat mixture on top. If the lettuce leaves are small, you can put 2 together to make a larger "cup". Top the beef with a couple of slices of fresh cucumber and a basil leaf. Sprinkle with sesame seeds and serve alongside the coconut rice. Enjoy!