Southwestern Baked Egg Cups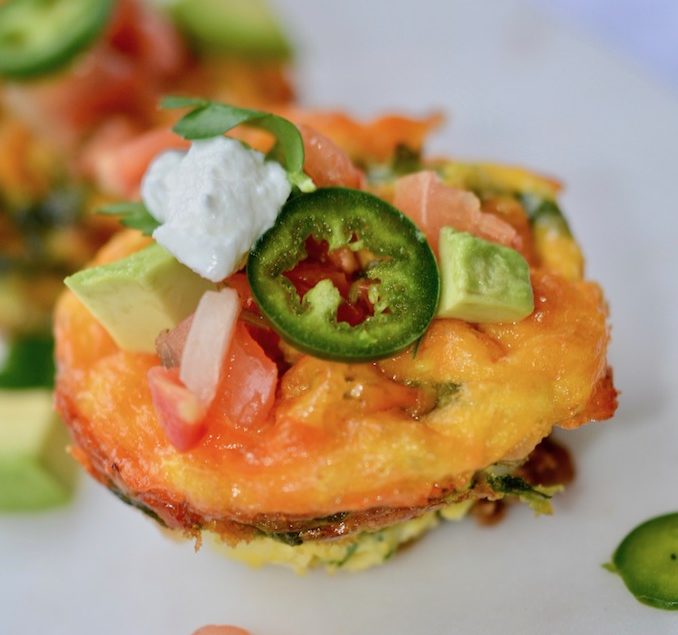 Prep Time: 5m
Cook Time: 40m
Total Time: 45m
Ingredients
1

lb

Lauras Lean Ground Beef™

½ yellow onion, finely chopped

½ bell pepper, finely chopped

1

pkg

taco seasoning, any brand will work or you can make your own

1/3

c

water

6

large eggs

½ cup Cheddar cheese

1

c

spinach, chopped

1

tbsp.

Greek yogurt, extra for topping

2

tbsp.

almond milk or creamer, optional

Salt and pepper
Toppings, optional
1

avocado, chopped

½ cup Pico de Gallo, homemade or store-bought

1

jalapeno, sliced

Cilantro, chopped
Instructions
Preheat oven 350 degrees.
Heat a nonstick skillet with 1 tablespoon avocado oil over medium high heat. When the oil is hot, add in Laura's Lean™ ground beef. Season the beef with salt and pepper. Cook the meat until it is completely brown. This should take about 8-10 minutes. When the meat is cooked, add in the chopped bell pepper and onion. Let the vegetables cook with meat for 2-3 minutes, until they have started to soften. Add in the package of taco seasoning and water. Stir everything to combine and let the meat mixture simmer for 5 minutes. Taste the meat mixture to adjust any necessary seasonings. Set aside and let cool. **You will not need to use all this taco meat for the egg cups! It is great to have in the fridge ready for extra meals which is why I like to go ahead and make the full pound of beef.
Crack the eggs in a large bowl and combine with the creamer, yogurt, chopped spinach, salt and pepper.
Spray a nonstick muffin tray with olive oil. You can use muffin liners if you would like as well. (This step is very important as the egg cups will stick if not properly greased.) Fill muffin tins with the meat mixture halfway each muffin cup. This will be about 2 tablespoons of meat mixture per muffin. Next, ladle in the egg mixture until it is about ¾ of the way up the cup. Top the egg cups with 1 tablespoon cheddar cheese.
Bake the egg cups for 18- 22 minutes. They will be ready when slightly golden on top and fluffy. Remove from the oven and let cool for a minute.
To serve: top each egg cup with a spoonful of pico de Gallo, some chopped avocado, a slice of fresh jalapeño and a dollop of greek yogurt. Enjoy!