Pesto Chicken Cauliflower Gnocchi with Arugula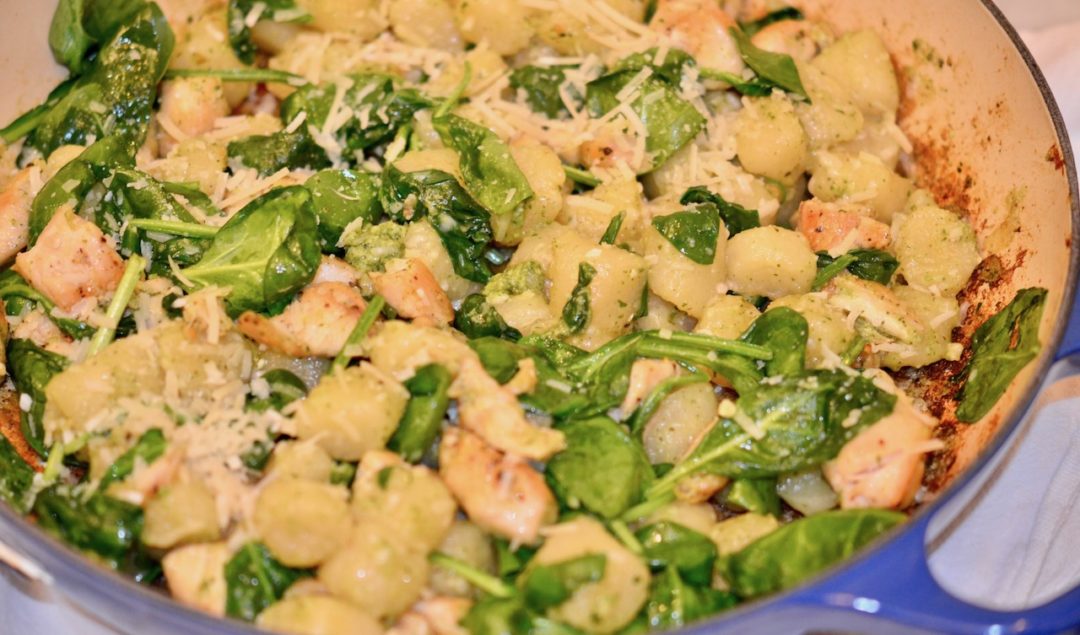 Prep Time: 10m
Cook Time: 20m
Total Time: 30m
Ingredients
2

pkg

Trader Joes Cauliflower Gnocchi

1

lb

chicken, cut into 1 in pieces

1/3

c

pesto, homemade or store bought

2

c

of arugula or spinach

1/4

c

Grated Pecorino cheese plus more for topping

Salt and pepper
Instructions
In a large skill heat 1 tablespoon olive oil and 1 tablespoon ghee over medium high heat.
Season the chicken cubes with salt and pepper and toss to combine.
When the oil and ghee are hot and shimmering, add in the chicken. Cook chicken in a even layer until golden brown and cooked through on both sides- about 6- 8 minutes per side.
When the chicken is done cooking, remove it from the pan onto a plate and add a tablespoon more oil to the pan.
Pour the frozen gnocchi into the pan and break them up until they are in one single layer- not all on top of each other. Let the gnocchi cook and get crisp on one side before moving them. You really need to let them form a crust or they will not get brown.
After about 5 minutes, the gnocchi should be ready to flip and sear on the other side.
When the gnocchi is done you can lower the heat and add the chicken back in the pan along with the pesto, parmesan and arugula. Toss everything to combine so that the pesto is coated on each piece of chicken and gnocchi. The arugula will wilt just a bit but I like it to still be able to hold some shape- about 2 minutes.
Serve with fresh shaved parmesan on top and enjoy!