Pasta Pomodoro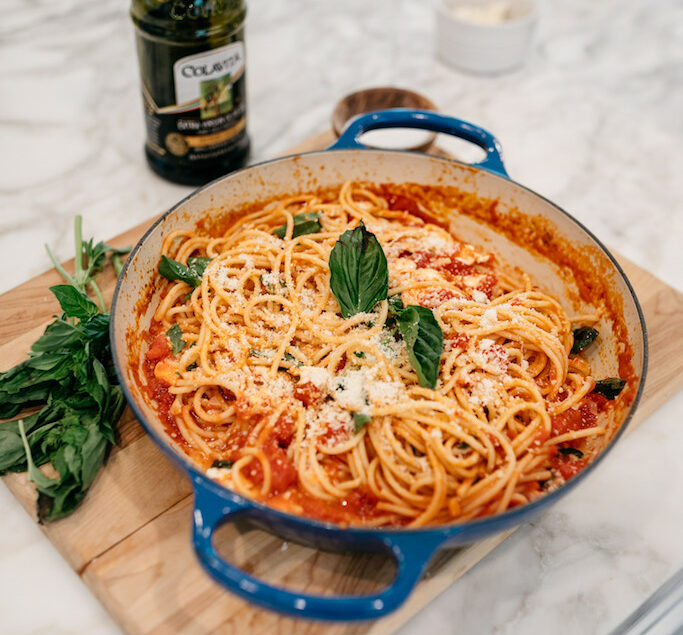 Prep Time: 5m
Cook Time: 20m
Total Time: 25m
Ingredients
3

tbsp.

Colavita Extra Virgin Olive Oil

1

lb

spaghetti pasta

28

oz

can Colavita whole peeled canned tomatoes

3

garlic cloves, minced

1/2

c

parmesan, grated

1/2

c

fresh mozzarella, diced small

1

c

fresh basil

Salt and pepper
Instructions
Bring a large pot of water to a boil. Season the water heavily with salt. When the water is boiling, add the spaghetti. Cook the pasta according to the package instructions.
While the pasta is cooking, make the sauce.
Heat a large Dutch oven over medium heat with 2 tablespoons Colavita Extra Virgin Olive Oil. Add the garlic to the pan and sauté for 1-2 minutes. You want to make sure not to burn the garlic.
When the garlic is fragrant, and tender (after about 90 seconds) add the canned Colavita tomatoes to the pan. Cook the tomatoes with the garlicy oil over medium heat for about 8-10 minutes. Season the sauce with salt and pepper. Break up the tomatoes as they cook to form a slightly chunky sauce.
Drain the cooked pasta, but make sure to save about ½ cup of the pasta water for later. Put the pasta directly into the tomato sauce. Top the pasta with the parmesan and 1 remaining tablespoon of oil then gently toss everything to combine.
Off the heat, tear in the fresh basil and top with the mozzarella cubes. Give the pasta one last gentle toss to incorporate the basil and cheese into the pasta. The mozzarella with melt immediately. If the sauce is too thick, add a splash of pasta water.
Taste the dish to adjust any necessary seasonings.
Serve immediately with extra parmesan for garnish and red pepper flakes if you like a little heat! Enoy!