Herb Roasted Chicken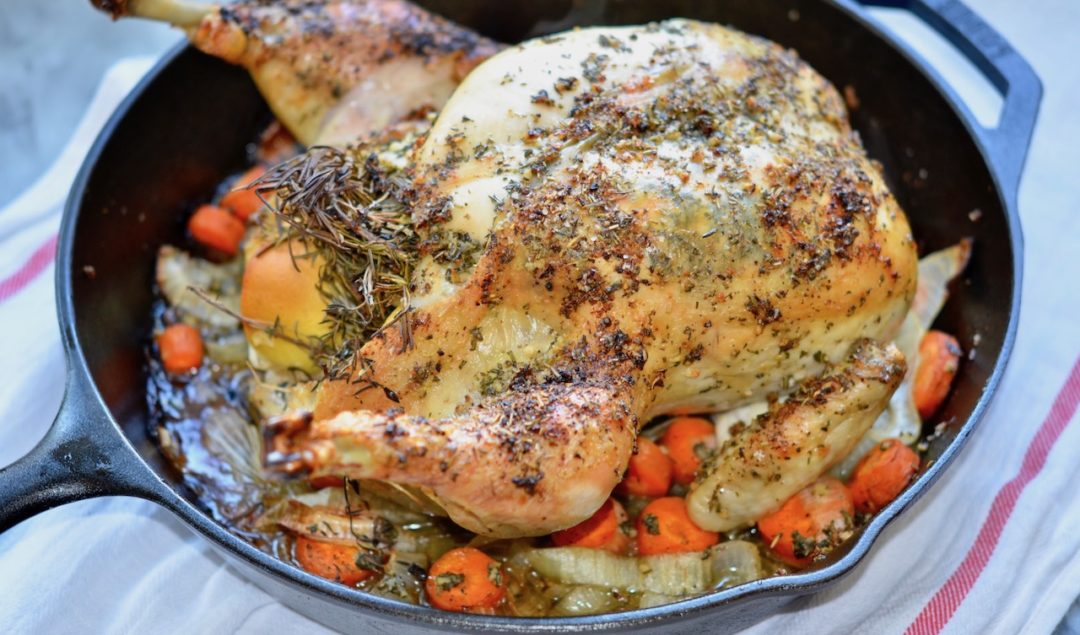 Prep Time: 15m
Cook Time: 1h 15m
Total Time: 1h 30m
Serves:

4 people

Yield:

1 Roast Chicken
Ingredients
1

roasting chicken (i used a 6 pound chicken)

2

lemons

2

yellow onion

3

carrots, roughly chopped

2

heads garlic

1

bunch of rosemary, about 2 tablespoons minced

1

bunch of thyme, about 2 tablespoons minced

olive oil

salt and pepper, to taste
Instructions
Preheat the oven to 425 degrees.
I started out by making the herb rub. To do this I finely mince half of the thyme, half of the rosemary and 6 cloves of garlic. The I drizzle in about 2-3 tablespoons extra virgin olive oil. Add salt and pepper to the bowl and stir everything to combine.
Next, I thinly sliced 1 onion and put it on the bottom of the roasting rack or cast iron skillet as a bed for the chicken. I add the carrot to the bottom of the pan as well.
Quarter the lemons and slice one whole garlic head in half, leaving the skin on. Cut the 2nd onion into quarters as well.
For the chicken- I liberally seasoned the inside with salt and pepper. Place the bird breast side up on the bed of onions and carrots. You could also add some baby potatoes to the bottom of the pan as well. Stuff the chicken with one of the lemons, both halves of the garlic, the onion quarters and the rest of the herbs. Then season the chicken with the herb rub, making sure to put the rub both under the skin and all over the top of the bird. I like to salt the whole bird with salt and pepper at the end.
Place the skillet in the oven and roast for 1 hour 15/30 minutes depending on how big the bird is. The chicken will be ready when you slit a hole in between the leg and the breast and the juices run clear. It should also have an internal temperate of 160 degrees.
Cover the chicken with foil and let rest for 20 minutes. Cut up and enjoy!!