Crispy Serrano Ham Kale Caesar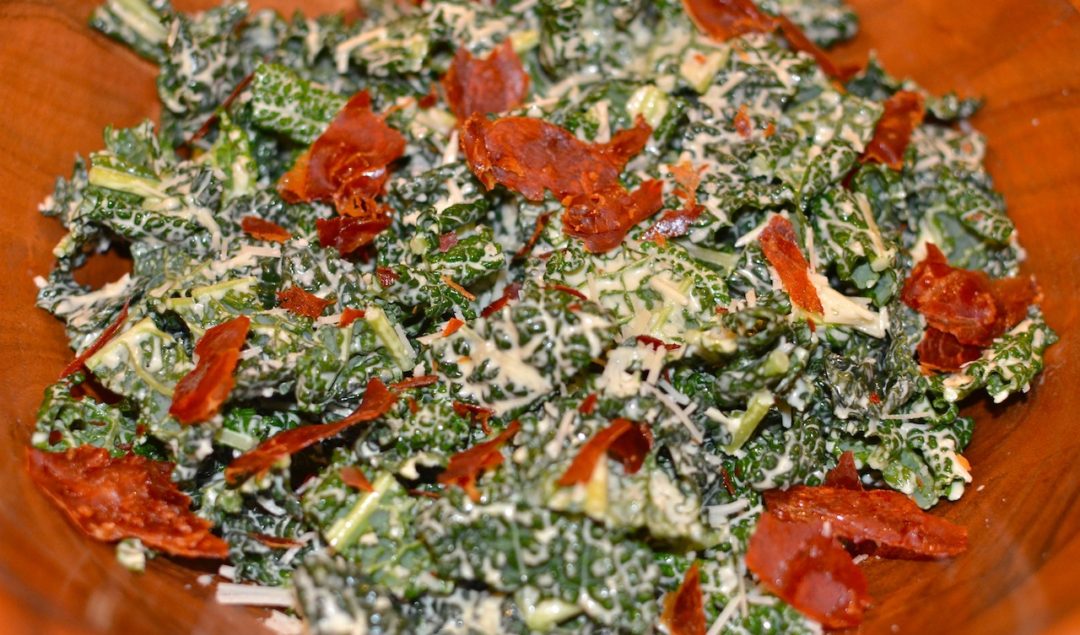 Prep Time: 8m
Cook Time: 8m
Total Time: 16m
Ingredients
For the Salad:
1

large bunch kale, stems removed, thinly sliced (About 6 cups)

¼ cup parmesan cheese

6

slices serrano ham
For the Dressing:
1-2 cups olive oil

1/4

tsp.

red pepper flakes

3

cloves garlic, smashed

1

lemon juiced, about 2 tablespoons

1

tbsp.

Dijon mustard

1

egg yolk, room temperature

6

anchovy filets

Salt and pepper
Instructions
Preheat the oven to 425 degrees.
Place the ham on a baking sheet and bake for 5-8 minutes until crispy. You will be able to smell it when it's ready. Set aside to cool on the baking sheet.
Meanwhile, in a food processor, pulse the egg yolk, garlic, and half of the olive oil until it becomes thick. Once thick, add the lemon juice, anchovies, red pepper flakes, Dijon, salt and pepper. Pulse those ingredients until incorporated in the dressing. Then with the processor running, slowly drizzle in the rest of the oil until is a consistency of your liking. Taste the dressing to adjust any necessary seasonings.
Pour about ½ the dressing all over the kale with the parmesan cheese and massage or mix it into the greens. The dressing will help tenderize the kale leaves. Break up the crispy ham and toss with the kale. Top the salad with a sprinkling of fresh parmesan and enjoy!