Cheesy Skillet Cauliflower Gnocchi with Pancetta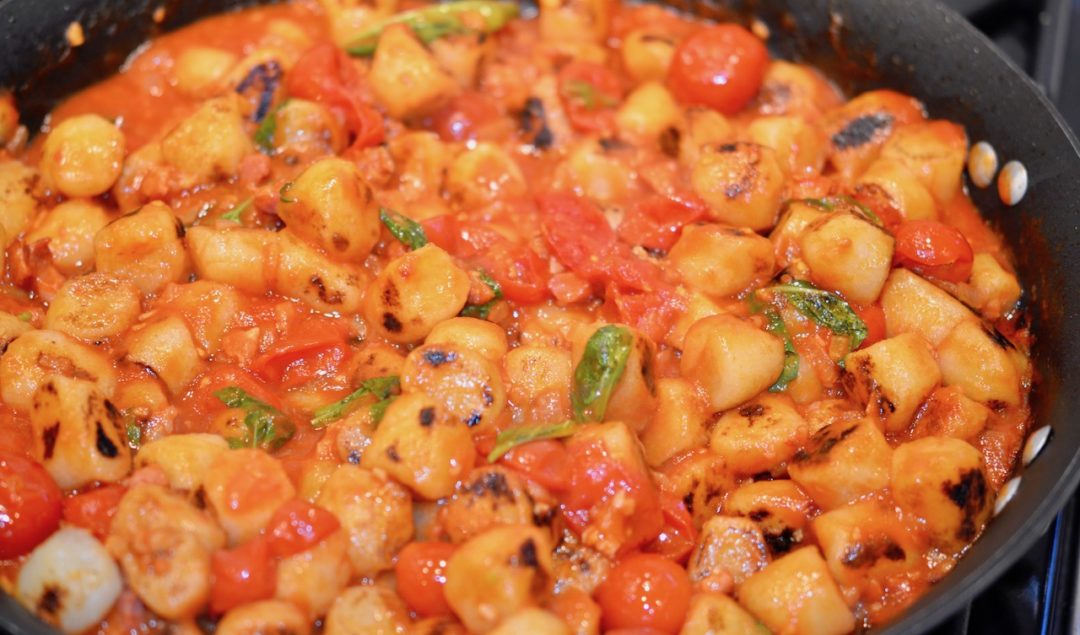 Prep Time: 10m
Cook Time: 25m
Total Time: 35m
Ingredients
3

pkg

Trader Joes Cauliflower Gnocchi, or any gnocchi of your liking

8

oz

pancetta, finely diced

2

shallots, minced

3

garlic cloves, minced

1/4

c

dry white wine

16

oz

cans cherry tomatoes, I prefer Mutti brand

1/4

c

water

1/2

c

mozzarella cheese

1

c

basil, torn

1/4

tsp.

red pepper flakes
Instructions
Preheat the oven to 450 degrees.
Over medium heat sauté the pancetta in a large skillet in 2 teaspoons of avocado oil. Cook the pancetta until almost crisp, about 5 minutes. Remove the pancetta from the pan with a slotted spoon and place on a platter for later.
Add the shallot to the same skillet and cook in the remaining pork fat. Cook the shallot for about 4 minutes, until almost tender, then add in the garlic. Cook the garlic for another 1-2 minutes then pour in the white wine.
Bring the wine to a boil and let it cook down until it has almost completely evaporated. This will cook out the alcohol from the sauce.
Add in the 2 cans of tomatoes, red pepper flakes and water. Stir everything to combine. Lower the heat to a simmer (gentle bubble) and season the sauce with salt and pepper. You can also add the pancetta back to the pan at this point.
While the sauce is simmering, you can go ahead and cook the gnocchi. I prefer to cook the cauliflower gnocchi straight from the freezer package.
Drizzle 2 tablespoons of avocado oil in large nonstick skillet over medium high heat. When the oil is hot, it will start to shimmer. Add the frozen gnocchi into the hot skillet and arrange the gnocchi so they are in one even layer. If the skillet is not big enough you can do this step in batches because you do not want to overcrowd the pan. Let the gnocchi cook for 4-5 minutes without touching it. This allows the gnocchi to form a crisp crust on the bottom side of the pasta. When the gnocchi have browned on the first side, you can flip them and cook on the opposite side. Cook the gnocchi until crisp on all sides and tender.
When the gnocchi is done cooking, add it directly into to the simmering tomato sauce.
Tear some fresh basil leaves into the sauce and gently stir everything together. I like to try to keep some of the cherry tomatoes whole.
Top the skillet with the mozzarella cheese and place in the oven for 4-6 minutes.
**If you want to do individual dishes like I did, divide the gnocchi among 4 gratin dishes and top each of those with 2 tablespoons of mozzarella then bake!
The gnocchi will be hot and bubbly on top and the cheese will be melted and golden.
Serve hot and enjoy!