Memorial Weekend Essentials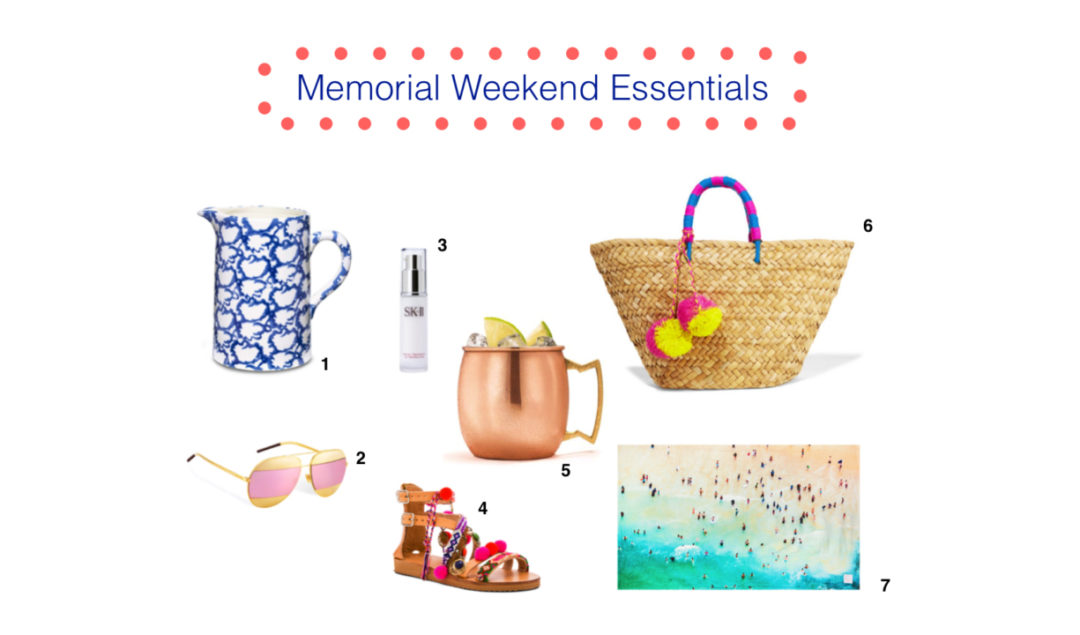 When it comes to Memorial weekend, I am all about wearing fun and colorful things to kick off the summer! This memorial weekend I happen to be going to my friends lake house and decided to write a checklist with everything I want to bring! Since I know there are going to be many cocktails involved over the holiday, I thought the blue and white pitcher would be perfect for all of our frozen margaritas. Also, you can't go wrong with a moscow mule in some copper mugs which is my 2nd favorite drink of choice.
With sunshine in the forecast I can't leave without my go-to sunscreen. I am huge on wearing sunscreen and love the one SK II makes. It doesn't have that awful smell like most sunscreens have and doubles as a moisturizer, which is perfect for my dry skin!
My new favorite sunglasses I recently purchased are the Dior "split" glasses. I am obsessed. They have an oversized aviator look which I am all about. I also recently purchased Elina Linardaki's fun gypsy sandals and have worn them nonstop. They go with everything and can make any boring outfit pop!
My last 2 must haves are not only perfect for Memorial weekend, but are great for the entire summer. You can't go wrong with the pom pom beach bag and how cute would the Gray Malin towel look in it!? These will definitely be summer staples for me.
xo, Rachel