Chicken Thighs with Shallots and Creamy Mustard Sauce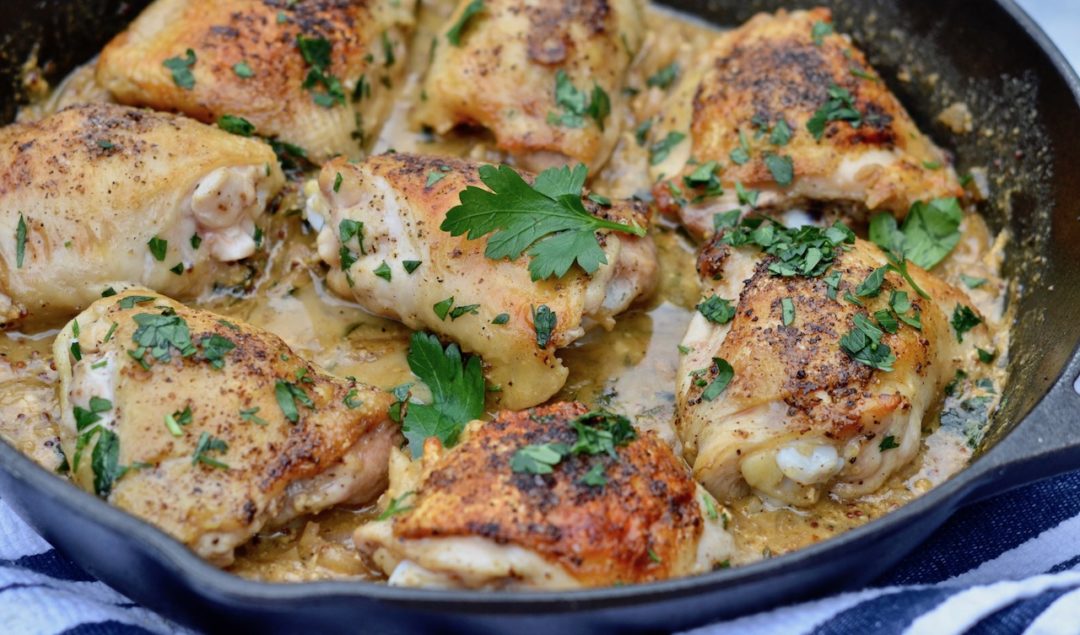 Prep Time: 5m
Cook Time: 25m
Total Time: 30m
Ingredients
2 1/2

lbs chicken thighs, bone in, skin on (about 8 thighs)

1

c

shallots, sliced (about 3 large shallots)

3

garlic cloves, minced

½ cup dry white wine, I used pinot Grigio

1

c

chicken stock

1

tbsp.

Dijon mustard

1

tbsp.

whole grain mustard

¼ cup Greek yogurt, I prefer Fage 0%

¼ cup parsley, chopped
Instructions
Pat the chicken thighs dry with a paper towel. Season each side liberally with salt and pepper.
Heat a large cast iron skillet with 1 tablespoon avocado oil over medium high heat. When the oil is hot, add the chicken thighs to the pan skin side down. Try not to overcrowd the pan. If you need to do this in 2 batches that is fine too.
Cook the chicken on the first side for about 5- 7 minutes, until the chicken skin is golden brown and has a nice crust. Flip the chicken and cook on the opposite side for another 4-6 minutes.
When the chicken has browned on both sides, remove it from the pan and set aside on a plate.
Lower the heat to medium and add the sliced shallots to the same skillet you cooked the chicken in. There should be some remaining rendered fat from the chicken to cook the shallots in but if you need to add some oil that is fine as well. Cook the shallots for 3-4 minutes until they begin to soften and then add the garlic. Cook the garlic for about 2 minutes then pour in the white wine.
Bring the wine to a boil, or rolling bubble, and let it cook on medium high heat until most of the liquid has evaporated and all the alcohol has cooked out. This should take about 4 minutes.
While wine is bubbling make sure to scrape those brown chicken bits from the bottom of the pan into the sauce. Those roasty pieces are called "fond" and will add a lot of flavor to the sauce.
When the sauce has reduced, add in the chicken broth, both mustards and Greek yogurt. Stir everything to combine and season the sauce with salt and pepper.
Reduce the heat to medium low and let the sauce simmer for a couple of minutes. You want to marry all the flavors here.
After about 2-4 minutes of the sauce simmering, add the chicken thighs back to the pan.
Cover the skillet and let the chicken finish cooking in the sauce. This takes about 8 minutes over medium heat. When the chicken is done it should register 160/165 degrees with a meat thermometer and no longer pink inside.
Toss the parsley all over the chicken and sauce.
Serve and enjoy!