Chipotle Chicken Bowls with Black Beans and Rice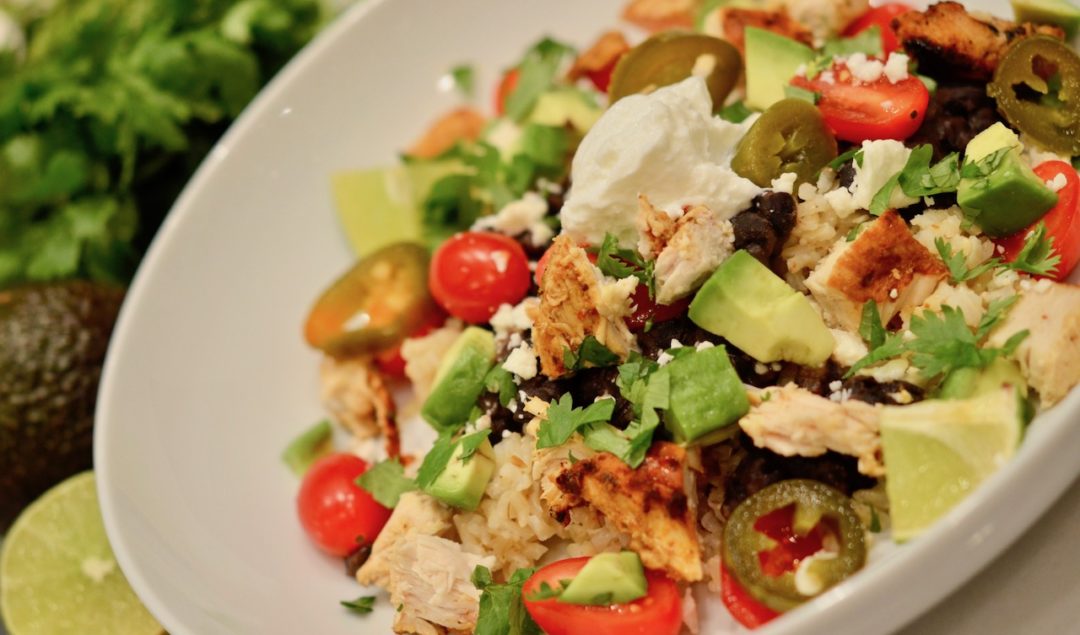 Prep Time: 15m
Cook Time: 45m
Total Time: 1h
Ingredients
2

chicken breasts

2

cans black beans

2

c

brown rice, cooked

1

avocado

1/4

c

feta

1

c

cherry tomatoes, cut in half

1

c

romaine, chopped
Marinade
Juice of 1 large lime

2

chipotle peppers in adobo (can), minced

1

tsp.

oregano

1

tsp.

garlic powder

1

tsp.

onion powder

2

tsp.

cumin

2

tbsp.

olive oil

Salt and pepper
Toppings
Non-fat greek yogurt

jalapenos, fresh or pickled

Salsa

Cilantro, chopped for garnish

Lime wedges, optional for garnish
Instructions
Combine all of the marinade ingredients in a bowl.
Put the chicken breasts in a ziplock bag and pour the marinade over them. Shake the plastic bag around so that the chicken is completely coated in the marinade.
Refrigerate the chicken for 2 hours or up to overnight, depending on how long you have!
Preheat the oven to 400 degrees.
Make the brown rice according to package instructions. I like to cook mine in water with garlic and onion powder and some salt for added flavor.
Heat a cast-iron skillet over medium heat with some avocado oil and ghee- about a tablespoon of each. When the oil is hot, place the chicken breasts in the skillet. Sear the breasts on each side until golden brown. This will take about 6 minutes per side. When both sides are seared, move the skillet to the oven to finish cooking the chicken all the way through. Mine usually take 18-22 minutes but it really just depends on how big your chicken breasts are.
While the chicken is cooking in the oven, heat the black beans in a sauce pan. I strain the beans first then heat them up on low for 10 minutes (or until everything else is ready) with 1 teaspoon of cumin.
Get all your other toppings ready while the beans are heating up and the chicken is finishing cooking.
When the chicken is done, take it out of the oven and cover with foil. Let is rest for 10 minutes to soak in all those juices. Then cube the chicken into bite-sized pieces.
Build the bowls: Put half of the romaine on the bottom of each bowl. Top with 1 cup of brown rice and 1/2 cup black beans. Place the cubed chicken on top of the beans then add the cherry tomatoes, avocado and feta. You can add or substitute any toppings you like! Top with a fresh squeeze of lime and the bowls are good to go! Enjoy!