Pork Banh Mi Bowls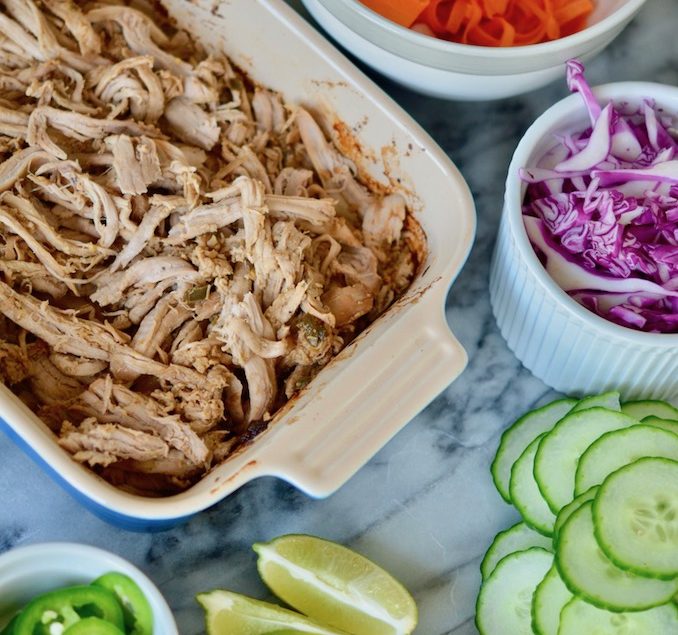 Prep Time: 15m
Cook Time: 3h
Total Time: 3h 15m
Ingredients
1/4

c

soy sauce

1

tbsp.

honey

1

jalapeño, seeds removed, finely chopped (can use whole if like heat)

3

cloves garlic, minced

1

tbsp.

sesame oil

1

tbsp.

ginger, minced

1 1/2

lb

pork tenderloin
Optional Toppings:
Pickled Carrots and Radishes

Cucumber

Cilantro

Jalapeños, sliced

Avocado

Red cabbage, sliced

Brown rice or cauliflower rice

Lime, cut into wedges
Instructions
Preheat the oven to 275 degrees.
Whisk the soy sauce, honey, jalapeños, garlic, ginger and sesame oil in a bowl.
Place the pork tenderloin in a baking dish. Season the meat with salt and pepper. Pour the marinade all over the pork. You want to completely coat the meat with the marinade. Cover the baking dish with foil and bake the tenderloin for 2.5 to 3 hours.
While the pork is roasting, prep all the other vegetable toppings. Slice the cucumber, cabbage, and jalapeños in thin slices, chop the cilantro and pickle the radishes and carrots.
To pickle the radishes and carrots, I thinly slice the radishes and cut the carrots into matchsticks. I use about 4 radishes and 2 carrots. In a separate bowl, whisk 1/4 cup white vinegar and 3 tablespoons sugar and a pinch of salt. When the sugar has devolved, pour the mixture over the vegetables and mix to combine. Refrigerate for at least 30 minutes for a quick pickle.
Cook the brown rice according to the package instructions.
When the pork is fork tender and will easily pull apart it is ready. Remove the pork onto a large cutting board and shred with 2 forks. Put the shredded pork back in the baking dish and mix it with all the leftover pan juices.
To serve: place the brown rice or cauliflower at the bottom of the bowl. Put the shredded pork on top of the rice. Top with all your favorite toppings, some fresh herbs and a squeeze of lime. Enjoy!