Picadillo Stuffed Sweet Potatoes with Smashed Avocado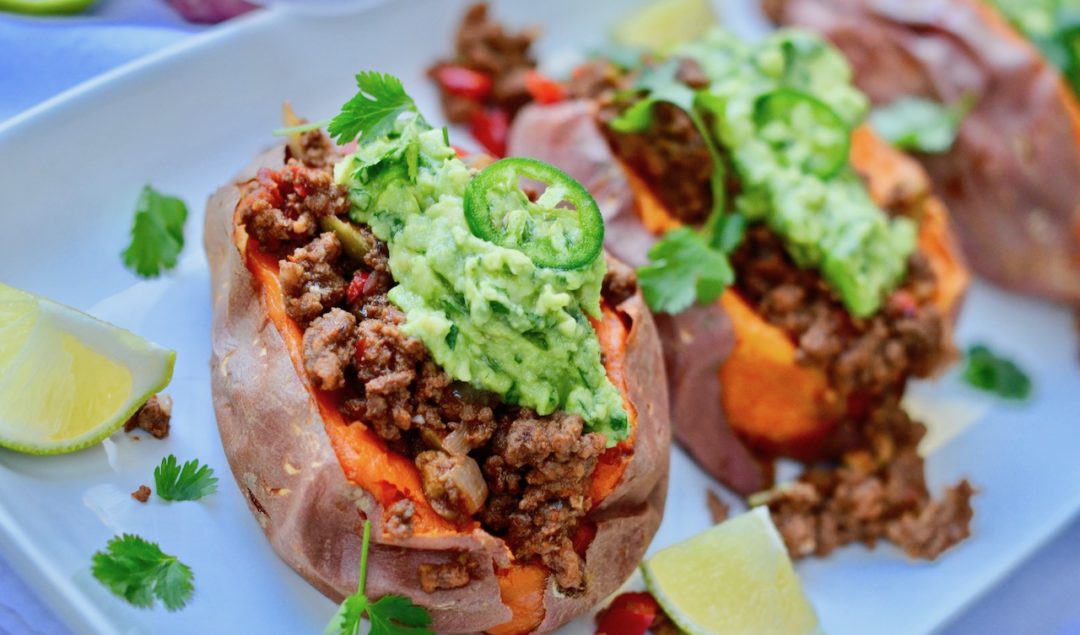 Prep Time: 15m
Cook Time: 1h
Total Time: 1h 15m
Serves:

4 people

Yield:

4 stuffed sweet potatoes
Ingredients
Picadillo
2

lb

Laura's Lean Ground Beef™

1

tomato, finely chopped

1/2

yellow onion, about 1 cup, finely chopped

1/2

red bell pepper, finely chopped

3

garlic cloves, minced

1 1/2

tbsp.

ground cumin

1

tsp.

dried oregano

1/2

tsp.

red pepper flakes

1

bay leaf

8

oz

can tomato sauce

8

oz

can of water (simply fill tomato sauce can with water)

3

tbsp.

olive salad with brine
Stuffed Sweet Potatoes
4

sweet potatoes

2

avocados

1

tbsp.

cilantro, minced

1

garlic clove, minced

1

lime, juiced plus extra for serving

1

jalapeño, thinly sliced (optional)
Instructions
Preheat oven to 400 degrees.
Scrub the sweet potatoes so that they are completely clean and rinsed of any dirt. Poke the potatoes all around with a fork. This will help the potato cook evenly. Place the potatoes on a baking sheet and roast for 45 minutes to an hour, until tender. The potatoes will be soft to the touch when ready.
In a large nonstick skillet, brown 2 pounds Laura's Lean Ground Beef™ in 1 tablespoon of avocado oil over medium high heat. Cook the beef for about 6-8 minutes, until the beef is no longer pink. Break the beef up with a wooden spatula as it cooks so it doesn't have any large chunks. When the meat is done, add in the chopped peppers, tomatoes, onions and garlic. Cook the vegetables with beef until they become tender. This will take about 5 minutes.
When the vegetables are tender, add in the spices and let them cook with the beef mixture. Allow the spices to toast for about 2 minutes. When the spices have cooked and brought out their flavors, add in the tomato sauce. Stir everything together and season with salt and pepper.
Lower the heat to a simmer and add the water and olive mixture. I like to fill the same tomato sauce can with water so that it picks up any extra sauce. Toss everything together and cook for another 18-20 minutes to allow all the picadillo flavors to develop.
While the picadillo is simmering, make the smashed avocado. This is simply a really easy guacamole. Add the flesh from 2 avocados into a bowl along with the garlic, cilantro, lime juice, salt and pepper. Mash everything together until it is the consistency of your liking. I like my guacamole to have some larger chunks of avocado in it. Taste the mixture to make sure it is seasoned correctly.
Build the potatoes: First, cut the cooled sweet potatoes in half but not all the way down the middle. You want to create a pocket for the picadillo. Spoon the picadillo into the sweet potato pocket. I use about 1/3 cup per potato. You can use more or less, depending on how large your potatoes are. Top the picadillo mixture with 1-2 tablespoons of smashed avocado. Serve with fresh jalapeños, lime wedges and chopped cilantro. Enjoy!