Mongolian Beef and Broccoli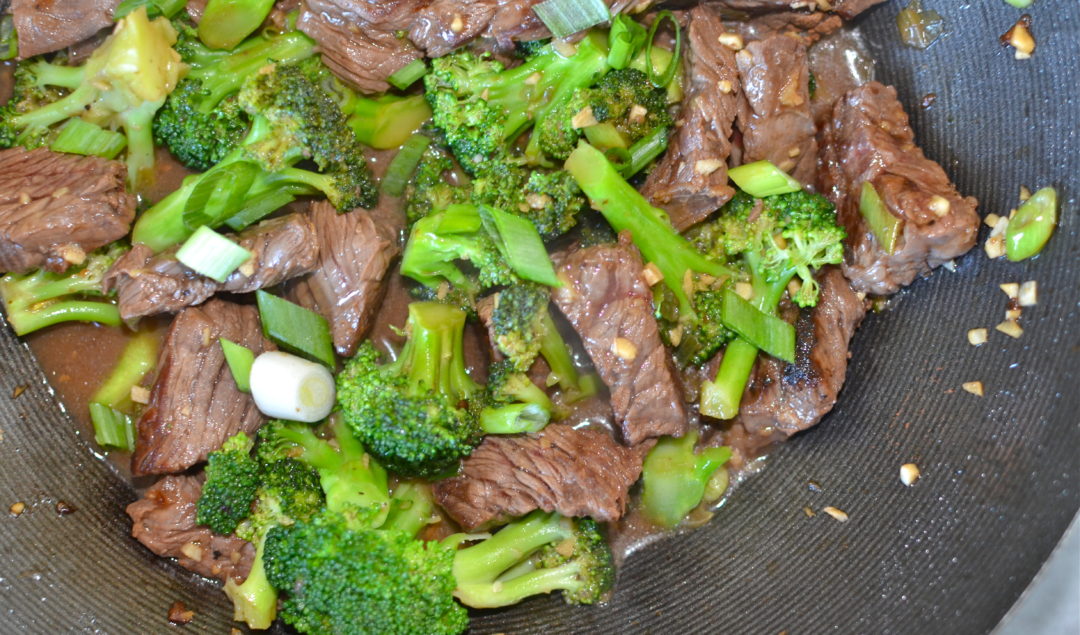 Prep Time: 10m
Cook Time: 25m
Total Time: 35m
Ingredients
• 1 pound sirloin steak, cut against the grain in 1 inch chunks

• 2 heads of broccoli, about 2 cups, cut into chunks

• 3 scallions, green and white parts sliced

• 2 teaspoons ginger, minced

• 3 garlic cloves, minced (about a tablespoon)

• Salt and pepper

• Sesame seeds, optional for topping
For the Marinade:
• 2 tablespoons soy sauce

• 2 teaspoons corn starch

• 2 teaspoons sesame oil

• 2 teaspoons rice wine vinegar
For the Sauce:
• 2 tablespoons soy sauce

• 1 tablespoon fish sauce, I use red boat

• 2 teaspoons sesame oil
Instructions
Place the cut up beef in a bowl and toss with some salt and pepper. Mix everything for the marinade in a small bowl and then pour all over the beef. Toss everything to combine and let sit for 30 minutes.
While the beef is marinating, bring a large pot of water to a boil. When the water is boiling, add in the broccoli and let cook for 2-4 minutes. The broccoli is ready when it turns bright green and is tender. When the broccoli is done, take it out and put it in an ice bath. An ice bath is just water and ice in a bowl—this process with immediately stop the broccoli from continuing to cook. Set aside.
In a wok or sauté pan, add 1 tablespoon sesame oil and 1 teaspoon ghee (the ghee is optional but adds great flavor.) When the oil is super hot, add in the beef. Make sure each piece of beef is flat on the pan, you do not want to overcrowd the pan when cooking the beef. I cook mine in 2 batches to make sure every piece cooks evenly. The beef should take about 3-5 minutes on the first side and 1-2 minutes on the second. When the beef is done, put on a plate and set aside. Add a little more oil and ghee to the same pan and add in the garlic, ginger, and white parts of the scallions. Cook for 2-3 minutes, until fragrant. Then add in the broccoli, beef, and sauce. Cook everything for another 2 minutes to marry all the flavors. Taste the dish to adjust any additional seasonings.
When everything has come together, I top mine with the green scallion slices and pour over brown rice. You can also do cauliflower rice or just eat it as is.
Serve hot and enjoy!