Granddaddy's Stuffed Cornish Hens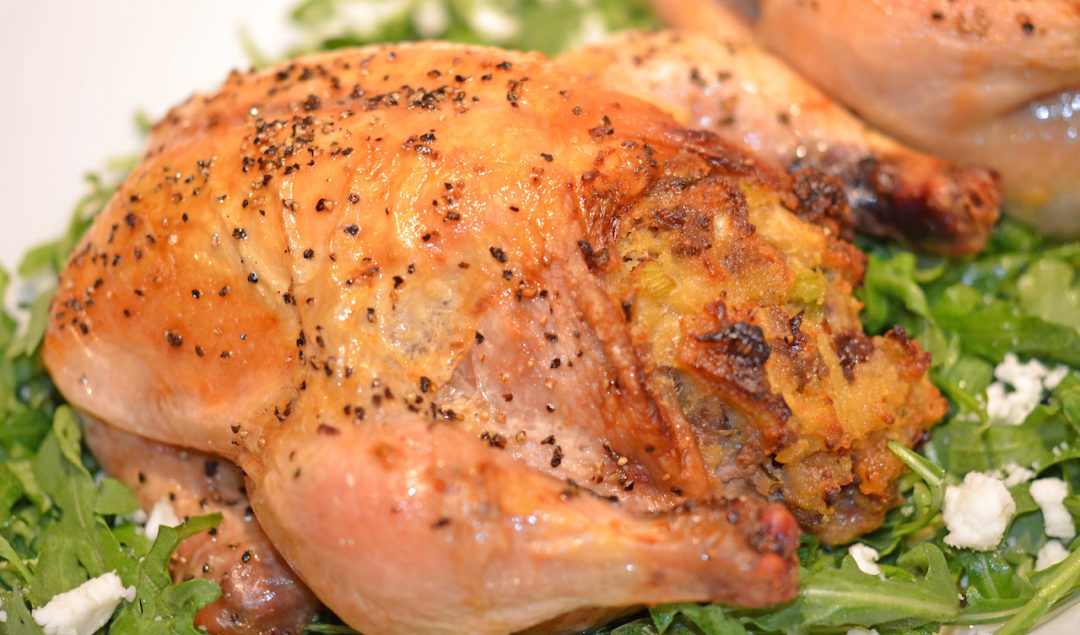 Prep Time: 10m
Cook Time: 1h 35m
Total Time: 1h 45m
Serves:

4 people

Yield:

2 Stuffed Cornish Hens
Ingredients
1

box Jiff Cornbread mix (plus the ingredients on the back to make cornbread)

2

slices stale white bread, just leave it out overnight if fresh

2

tbsp.

butter

½ yellow onion, about 1 cup, finely diced

4

stalks of celery, about 1 cup, finely diced

1/4

lb

ground breakfast sausage

1/4

lb

ground grass-fed beef

1

tsp.

fresh thyme, chopped

1

-1.5 c turkey juice drippings or turkey stock

1

egg

salt and pepper

2

Cornish game hens
Instructions
Preheat oven to 400 degrees.
Bake the cornbread according to package instructions. Let cool. You will only need 2-2.5 cups of prepared cornbread.
In a large sauté pan, cook the onions, celery, and thyme in 1 tablespoon of butter and 1 tablespoon oil on medium heat until the onions are translucent and the vegetables are tender. This process takes about 12-16 minutes.
When the vegetables are soft, add both ground meats. Cook the meat until it is completely brown and no longer pink. The meat should be fully cooked. When the meat is done, lower the heat and add in the cornbread and white bread, breaking them into chunks as you add them to the pan. I usually break them into about 1 inch pieces. Carefully combine the bread and meat mixture while adding in the stock.
Slowly pour in the stock in batches because you may not need to full amount. You want the mixture to be very moist but not mush.
Taste the mixture and season with salt and pepper accordingly. When the seasoning is adjusted and the stuffing has cooled slightly, add in the egg and combine. The heat should be off at this step. When the egg is incorporated into the stuffing, gently stuff the bird with the stuffing. If you have extra stuffing, you can bake that alongside the bird in a baking dish as well.
Place the stuffed birds in a large baking dish. Melt the second tablespoon of butter and brush all over the birds. Season the birds with salt and pepper, then transfer them to the oven and bake for about 1 hour and 15 minutes. You will know the bird is done when inserting a meat thermometer into the thickest part of the thigh and it registers 165 degrees. The stuffing should also register 165 degrees for the egg to be fully cooked.
When the birds are done, remove from the oven and cover with foil. Let the birds rest for 10 minutes before serving.
Serve the stuffed Cornish hens with your favorite holiday sides or on a big green salad. Enjoy!