Flank Steak with Chimichurri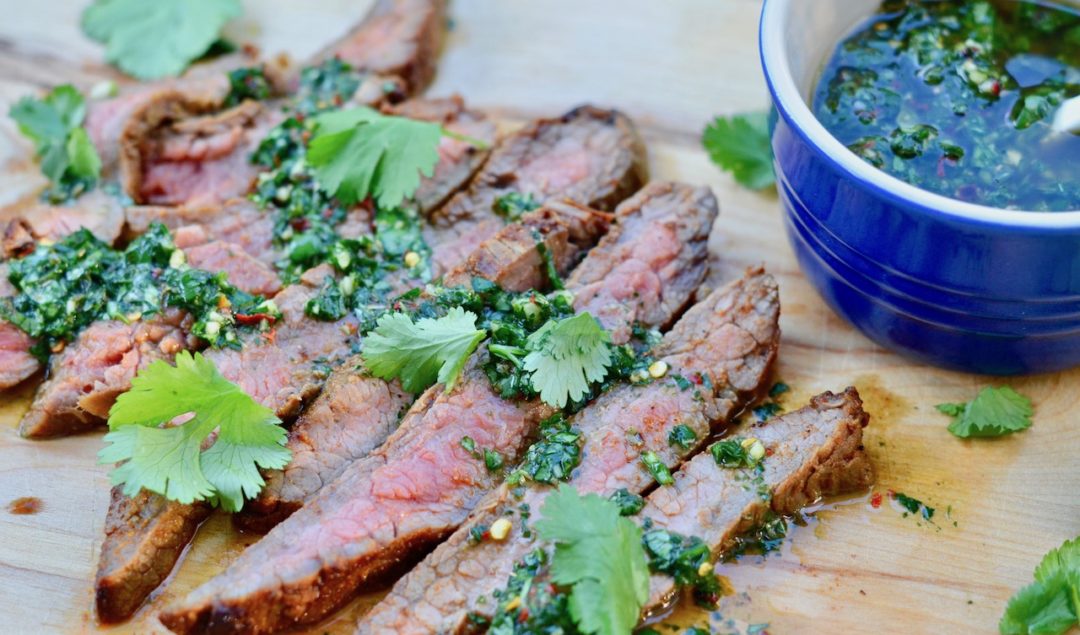 Prep Time: 30m
Cook Time: 15m
Total Time: 45m
Ingredients
1

½ pounds flank or skirt steak
For the Marinade
1

tsp.

garlic powder

1

tsp.

onion powder

1

tsp.

paprika

1

tsp.

cumin

1

tsp.

chili powder

¼ teaspoon cayenne powder

3

tbsp.

olive oil

1

tsp.

salt

½ teaspoon pepper
For the Chimichurri Sauce
2

c

parsley, about ½ cup finely chopped

2

c

cilantro, about ½ cup finely chopped

1

tsp.

red pepper flakes

1

tsp.

dried oregano

¼ cup red wine vinegar

¼ cup olive oil

4

garlic cloves, finely minced

1

tsp.

salt

½ teaspoon pepper
Instructions
Combine all the marinade spices in a bowl. Pour in the olive oil and mix everything together to form a paste.
Rub the marinade paste all over the steak. Place the steak with the marinade in a zip-lock bag and refrigerate for 30 minutes or up to overnight.
While the steak is marinating, you can go ahead and make the chimichurri sauce.
Combine all the ingredients in a bowl and whisk everything together. You can chop everything yourself, which I like to do, or you can put everything minus the oil in a food processor and chop it that way. Once everything is finely chopped you can pulse in the oil. Taste the sauce to adjust any necessary seasonings. You may need to add salt and pepper. Pour the sauce in an airtight container and store in the fridge until ready to use.
When the steak is done marinating, take it out of the fridge and bring it to room temperature.
Heat a cast iron pan or large skillet over medium high heat with a couple tablespoons of avocado oil. I use avocado oil here because it has a higher smoke point than most other oils.
When the oil is hot, add the steak to the pan. Let the steak cook for 6-8 minutes on each side, depending on how thick the steak is and how much you like it cooked. I prefer medium rare steak which usually takes around 7 minutes per side.
When the steak is done cooking on each side, remove it to cutting board and cover with foil. Let the steak rest for 10 minutes before slicing into it.
After 10 minutes, slice the steak into thin strips against the grain of the meat. This is a very important step because it you slice along the grain the meat will be tough.
Place the sliced meat on a platter and drizzle with the chimichurri sauce. Enjoy!