Fall Apart Pot Roast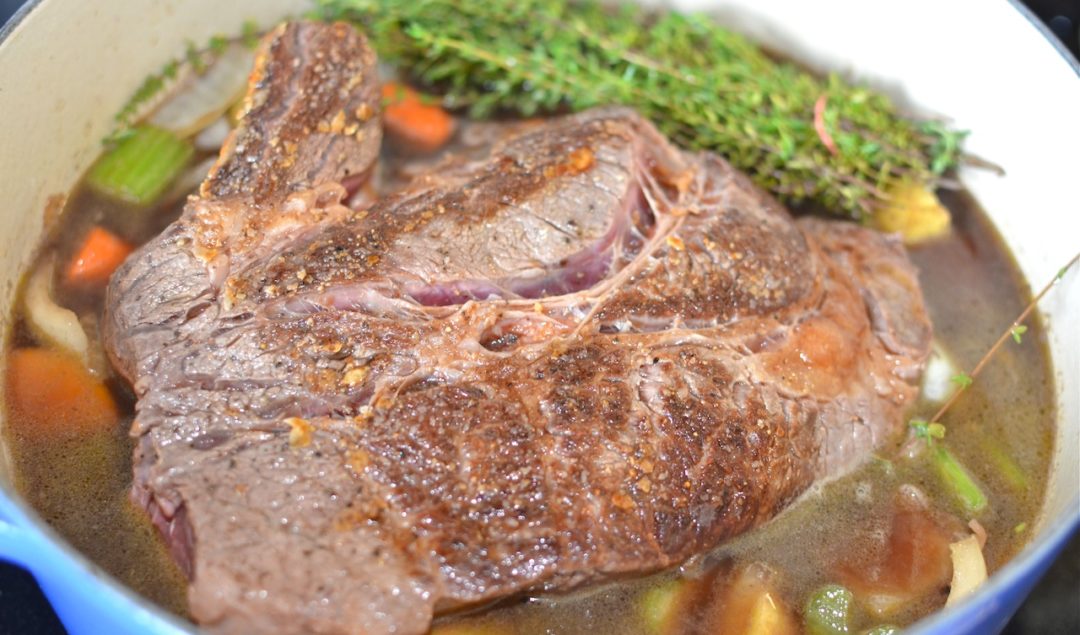 Prep Time: 5m
Cook Time: 4h
Total Time: 4h 5m
Ingredients
4-5 pound chuck roast

4

carrots cut into large chunks

2

yellow onions, chopped in large chunks (I quarter them)

4

garlic cloves, smashed

4

large celery sticks, chopped in large chunks

1

chicken bouillon cube

1

c

red wine, I used Pinot Nior

4

c

beef broth

1

bunch of thyme, tied together

salt and pepper
Instructions
Preheat oven 275 degrees.
Pat the chuck roast completely dry and season the entire piece of meat liberally with salt and pepper.
Heat 2 tablespoons of olive oil in a large Dutch oven over medium high heat. When the oil is shimmering, add the beef into the pan. Sear the meat evenly on all sides until golden brown. This should take about 5-8 minutes per side.
When all the sides of the beef have been seared, take it out and set it aside on a plate.
Add the carrots, onion, celery, and garlic cloves to the pot. You may need to add a bit more oil as well. Cook the vegetables in all the browned beef bits for about 6-8 minutes. Season the vegetables with salt and pepper.
Deglaze the pan with the red wine while scraping the brown bits off the bottom of the pan. These brown bits are called "fond" and will add lots of flavor to the sauce.
When the wine has reduced by half, add the beef back into the pan along with the thyme and bouillon cube.
Pour the beef broth around the meat until it is almost covered.
Put the top on the Dutch oven and place the whole thing in the oven.
Cook the roast for 3-5 hours until the meat is fall apart tender. If the meat is not falling apart, it needs to cook longer.
When the meat is done, take it out of the pot and set aside. Scrape the fat off the top of the beef liquid. Taste the sauce- you may need to add salt or pepper.
On a cutting board, pull the meat apart with 2 forks to serve- it should literally just fall apart, you should not have to cut it.
I like to serve mine over a pile of mashed potatoes or mashed cauliflower and then cover the entire plate in the cooking liquid- this stuff is GOLD.
Enjoy!