Chicken and Wild Rice Soup with Pancetta and Mushrooms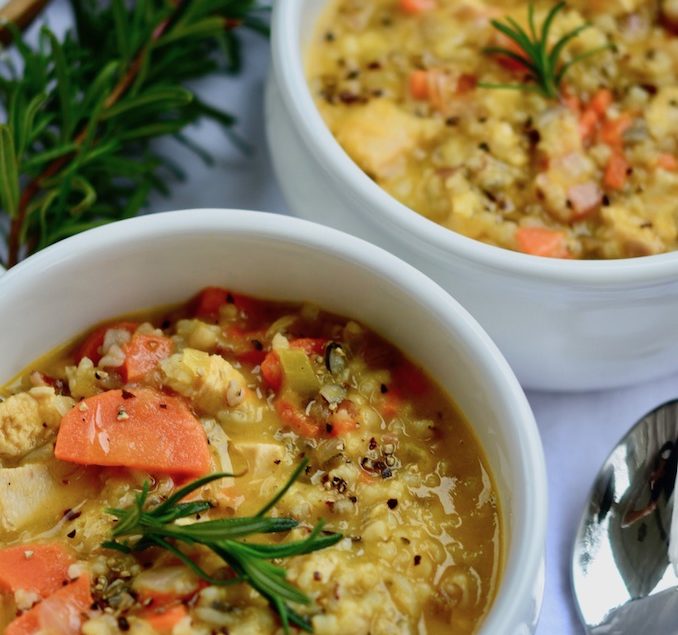 Prep Time: 10m
Cook Time: 35m
Total Time: 45m
Ingredients
5

oz

pancetta, chopped

3

stalks celery, finely chopped, about 1.5 cups

1

onion, finely chopped, about 1.5 cups

2

carrots, finely chopped, about 1.5 cups

3

garlic cloves, minced

8

oz

package baby Bella mushrooms, sliced

2

chicken breasts, boneless and skinless

1

tsp.

dried rosemary

1

tsp.

dried oregano

1

c

wild rice

8

c

of broth, can use chicken or vegetable

2

bay leaves

2

tbsp.

heavy cream or daily-free creamer, optional
Instructions
Preheat oven to 450 degrees.
Place the chicken breasts on a baking sheet and season them with salt and pepper. Drizzle or spray the chicken with a couple teaspoons of olive oil.
Bake the chicken breasts for 18-22 minutes, until the chicken is fully cooked and registers 165 degrees when inserting a meat thermometer into the thickest part. When the chicken is done, remove from the oven and cover with foil. Let the chicken rest for 10 minutes then chop it into bite-sized pieces for the soup.
While the chicken is roasting, it is time to get started on the soup base.
Place a large Dutch oven or soup pot on the stove over medium heat. When the pot is hot, add in the pancetta. Cook the pancetta for 8-10 minutes until it is crisp. When the pancetta is done, remove onto a plate with a slotted spoon, leaving all the leftover pork fat in the pan.
Add 1 tablespoon of avocado oil to the pot along with all the vegetables. Sauté the carrots, onions, celery and mushrooms for 8-10 minutes, until they have softened. Season the vegetables with salt and pepper. **It is very important to season every layer when cooking and not just at the end!
When the vegetables are almost tender, add in the garlic. Cook everything for another 2 minutes.
Add the dried rosemary and oregano to the vegetables and let those all cook together for another 2 minutes.
Now that the vegetables have softened, add the rice to the pot, along with the cooked pancetta.
Pour in the stock and bring the soup to a boil.
When the soup is boiling, add the bay leaves, then lower the heat to medium low. Simmer the soup for 20 minutes.
Add the chicken cubes to the soup and let everything simmer together for another 5 minutes. If you would like to add some type of cream, pour it in at this step. Season the soup with salt and pepper.
After 5 minutes, the soup should be ready! Taste to make sure you don't need to adjust any of the seasonings. Serve immediately and enjoy!