Braised Chicken Thighs with Mushrooms, Onions and Thyme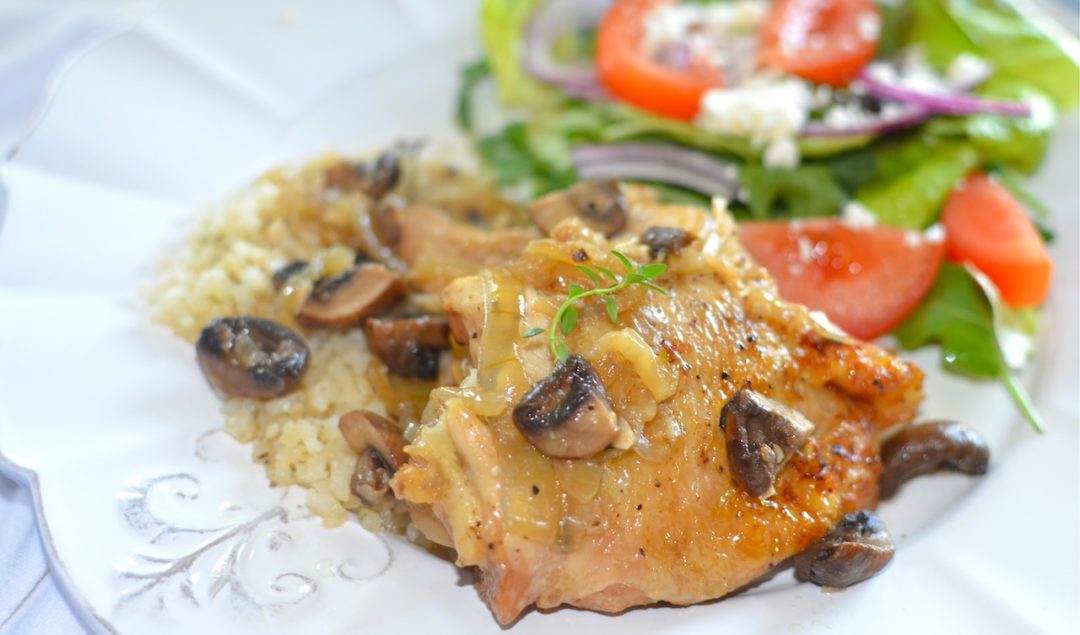 Ingredients
4

Chicken Thighs

1

small onion, sliced thinly

8

oz

mushrooms, sliced (I like to use baby bella)

3

cloves of garlic, minced

1

tbsp.

fresh thyme, minced

3

tbsp.

white wine

1/2

c

chicken broth

2

tbsp.

oil, I prefer Avocado oil

Salt and pepper
Instructions
Preheat the oven to 275 degrees.
Season the chicken thighs on both sides liberally with salt and pepper.
In a Dutch oven, add 2 tablespoon Avocado oil and turn the heat on to medium/high. When the oil is hot, sear the chicken, starting with the skin side down. Cook the chicken for 5 to 7 minutes or until the skin is golden brown. Flip the chicken and cook on the other side for another 5 minutes. The chicken does not need to be fully cooked- you are just locking in all the juices at this point. When the chicken has browned on the other side, remove the chicken from the pan and set aside.
Add the onions and mushrooms to the Dutch oven. Cook the vegetables for 5 to 8 minutes until slightly tender. Season the vegetables with salt and pepper. Then, add in the garlic and thyme to the pan. Cook the garlic and thyme for about 2 minutes and then deglaze the pan with the white wine. Cook the wine until it has reduced by half and then add in the chicken stock.
Nestle the chicken back in the Dutch oven in a one even layer. Place the lid on the pot and put it in the oven. Let the chicken braise for 2 hours.
After 2 hours, remove the chicken from the oven. Let cool slightly.
I like to serve mine over cauliflower rice but it would be delicious over mashed potatoes or regular rice as well- something to soak up all that yummy braising liquid!
Enjoy!